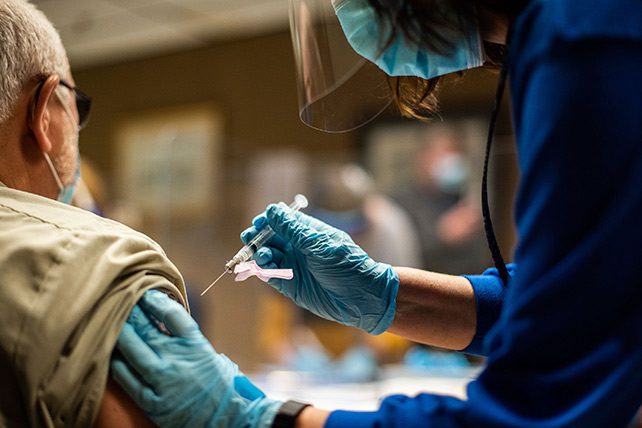 (Interfaith America) — Many private businesses, hospital systems and universities that require COVID-19 vaccines also offer religious exemptions. But with no consistent method for navigating these requests — or defining the terms, for that matter — leaders are scrambling to respond.
Catholics who study or work at a Catholic college or university, for example, won't get far if they cite their faith as a reason not to get vaccinated, although they may have success making similar requests at secular institutions. Requests have been coming in nonetheless, says the Rev. Dennis H. Holtschneider, president of the Association of Catholic Colleges and Universities, which serves as a resource and voice for its 200 member campuses.
"And our presidents turn to find out if there is such a thing. The answer is no. There is no religious exemption in Catholicism," Holtschneider said, citing Vatican teaching  on the matter. He notes that they may accept other religions as a basis for exemption.
"You're not going to find in this church a lot of sympathy for those who don't want to support the health of the community," Holtschneider added, noting that Catholic hospitals nationwide have been on the frontlines caring for patients with COVID-19. "This is a church that does health care."
Dr. Jeffrey C. Barrows, senior vice president of bioethics and public policy at the Christian Medical & Dental Associations, started fielding similar calls in late July, maybe a half dozen so far, from colleagues who feared taking the vaccine conflicted with their Christian beliefs.
"I've heard from physical therapists. I've heard from physicians," Barrows said. The callers worked for hospital systems that mandated, or planned to mandate, the COVID-19 vaccine.
"Our official position is we are recommending that people get the vaccines," said Barrows. "We do feel that the benefit of being vaccinated against COVID-19 outweighs the risks."
His group opposes COVID-19 vaccine mandates, however, and a  statement on its website notes that "there is no justifiable moral obligation to accept vaccination."
Related article: Scientists and Legislators Question Whether Religious Exemptions to Vaccines Are Really Religious
"Our members are divided," Barrows said. He encourages his colleagues who oppose vaccines to wear masks and agree to frequent testing.
As the number of businesses that mandate COVID vaccines for their employees continues to rise — Tyson Foods, Microsoft and United Airlines announced mandates last week — so does the number of questions about religious exemptions.
"This is all such uncertain territory," said Jenna Reinbold, a professor at Colgate University who studies the intersection of religion and law. "All kinds of legal professors and professionals are talking about this right now."
So are college and university leaders, according to Holtschneider. "These are very fresh questions on our campuses right now," he said.
Following guidance from the Equal Opportunity Employment Commission, many private businesses, hospital systems and universities that require vaccines also offer medical and religious exemptions. But there's no consistent method for navigating these — or defining the terms, for that matter.
At Rush University Medical Center, a teaching hospital in Chicago with 14,000 employees, a new committee met for the first time last week to begin reviewing religious exemption requests. Its members include infectious disease experts, human resources and labor relations representatives, hospital administrators and attorneys, as well as the hospital's lead chaplain, a tenured professor who chairs the university's department of religion, health and human values.
"It's a really wonderful, well-rounded group," said Lisa Weichman Harries, a hospital administrator who serves on the committee. Hospital officials wouldn't disclose how many employees have asked for religious waivers, but Weichman Harries said all must follow a similar process.
Related article: Brian Houston Calls Vaccine a 'Personal Decision' After Death of Unvaxed Member
A standard form asks if their opposition is "related to a religious institution, and if it does, we ask for a letter from that institution," Weichman Harries said. For those who don't belong to a house of worship or aren't able to secure such a letter, "the next piece there is to describe your religious or moral belief, observance or practice, how long you've had that, and ask them for their reason."
The Civil Rights Act of 1964 includes language forbidding religious discrimination, a protection the U.S. Supreme Court upheld in a 2014  case  involving a Muslim woman's right to wear a hijab to work at an Abercrombie & Fitch clothing store. But during a surging global pandemic, employers reviewing the religious exemption requests must weigh such religious protections against community health and safety, navigating deeply personal religious beliefs and questions about religious authority, all in a moment of divisive political tensions and widespread misinformation about the vaccine.