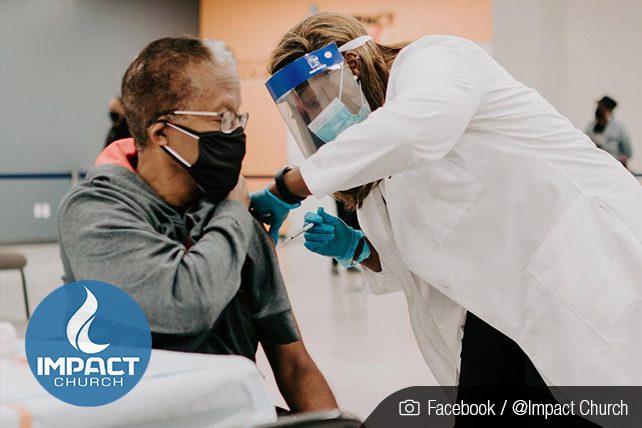 As cases of COVID-19 continue to surge throughout America, a church in Jacksonville, Fla., is experiencing heartbreaking loss. George Davis, pastor of the 6,000-member Impact Church, reports that six church members, including "a young lady on our worship team," died from COVID within a 10-day span.
Four of those people were under 35, all were healthy, and none had been vaccinated against COVID, Davis reports. Another 15 to 20 are hospitalized with the virus, he says, and about 10 more have the virus but are at home.
Desperate to help, Impact Church held a free COVID vaccination clinic Sunday, opening it to all community members. Of the 269 people who received shots yesterday, 35% were teenagers. In March, more than 800 people received shots at a previous clinic the church hosted.
Impact Church Pastor Tired of Burying Congregants
Describing the pain of the recent deaths, Davis says, "These are actual people that I know, that I have pastored. One 24-year-old kid, I've known him since he was a toddler." Another was the mother of a young daughter. "It has just absolutely ripped our hearts apart," he adds.
Last week, the pastor tweeted this response to people wondering why his church was offering vaccines: "I'm tired of crying about and burying people I love. So take the political & religious games somewhere else!!"
In a congregation that's 75% Black, Pastor Davis, who is also Black, says he's seen lots of vaccine hesitancy and distrust of the government. So he's relying on the fact that many people of color tend to trust their pastors and view churches as safe places.
It's been especially frustrating seeing a disease "that was avoidable" claim "people in the prime of their life," Davis says. "You also don't want the loved ones who are left behind to feel horrible and don't want to seem like I'm putting guilt onto them, but the reality is, I know that these people would still be here had they gotten the shot."
After talking to their families, Davis says he's pretty sure the deceased members didn't contract COVID at church. Impact has resumed in-person worship but requires masks, practices social distancing, and sanitizes between each service.
God Uses 'Medical Help' to Work Miracles
Throughout the pandemic, Davis has been preaching about the importance of both faith and science. God used both, he tells The Washington Post, when his infant daughter faced a grim prognosis due to sickle cell disease. Davis and his wife, also a pastor at Impact, prayed, fasted and received communion daily for two years. Following a bone-marrow transplant, their daughter is now 19. "The miracle is no less of a miracle if medical science has to kick in to finish it off," says Davis, citing his daughter's recovery as a "turning point" in his beliefs. "And that's what I [see] in this virus, too," he adds.
Vaccine clinics are part of the pastor's resolve to pray and also "do something." He emphasizes that he doesn't want to pressure people but merely make vaccines accessible. "My heart's passion is to help the people that I'm called to serve and do whatever I can to help see to it that they are in a healthier place," says Davis.
"We've been able to see people who have said that 'I was on the fence, I wasn't sure [about the COVID vaccine]. But because it came from my church, because my pastor gave us information about it…I'm comfortable doing it now,'" he adds.