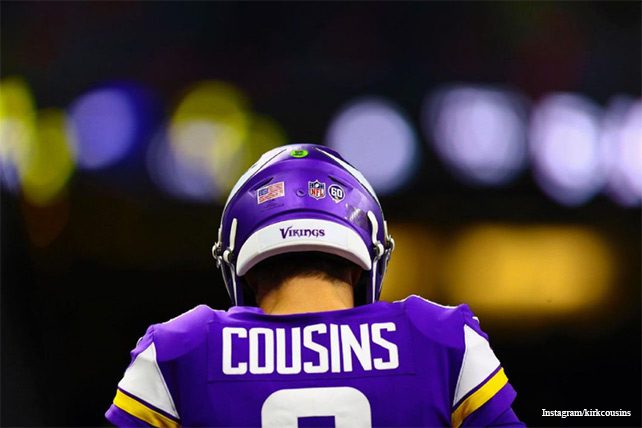 UPDATED August 9, 2021: A Michigan hospital is ending its relationship with Minnesota Vikings quarterback Kirk Cousins because he made it clear that taking the COVID-19 vaccine is "very private health decision."
Holland Hospital in Western Michigan shared that although it is "proud" of the relationship they've previously had with Cousins, the hospital "must be certain that our communications about COVID vaccination are consistent and unequivocal." Cousins' stance appears to be anti-vax. He publicly stated during his mandated absence from the field: "I'm going to be vigilant.… I've even thought about, 'Should I just set up literally plexiglass around where I sit, so that this [exposure] can never happen again?'… I'm gonna do whatever it takes."
"While we acknowledge that each person is entitled to their own viewpoints," the hospital said, "Those who speak on our behalf must support messages that align with the hospital's position on matters of vital importance to individual and community health. For this reason, Holland Hospital will discontinue using Kirk Cousins as our spokesperson for now."
---
ChurchLeaders original article written on August 6, 2021, below:
Is the Vaccine Decision Private if Others Are Affected? Christian QB Kirk Cousins Weighs In
Minnesota Vikings quarterback Kirk Cousins, an outspoken Christian, returned to practice yesterday, after having to sit out five days because of COVID-19 protocols. Cousins, 32, had been in close contact with a teammate who later tested positive for the virus, and the QB's mandated absence from the field indicates he's unvaccinated. (NFL players who've received COVID vaccines aren't required to sit out following high-risk contacts.)
Many themes of the vaccine debate now occurring in America's churches, schools, and communities are also playing out in locker rooms. The stance of Cousins, a leader for the Vikings, is making headlines for several reasons: His team has the lowest COVID vaccination rate in the NFL, he's the only quarterback on the roster who's played in a pro game, and he and his dad, a pastor, have previously made controversial comments about the pandemic.
Kirk Cousins: My Vaccine Status Is Private
Speaking to the media Thursday, Cousins emphasized that his vaccine status is personal and that he's exercising caution. "I think the vaccination decision is a very private health matter for me, and I'm gonna keep it as such," he said when asked if he'd received the shots.
"I do believe that as a leader of the team, it's very important to follow the protocols to avoid this close contact," Cousins added. "So I'm going to be vigilant.… I've even thought about, 'Should I just set up literally plexiglass around where I sit, so that this can never happen again?'… I'm gonna do whatever it takes."
The NFL veteran, who's entering his 10th season, said, "The key will be not being a close contact, that will be the focus. We have to be very vigilant to make sure that does not happen." The Vikings' quarterbacks are now meeting in a larger room, and Cousins says the size of the previous room was the reason he was forced to miss five days of training camp.
Is the Vaccine Decision Private if Others Might Be Affected?
Sports columnists aren't fans of a team leader risking his playing availability by refusing to get vaccinated. "What's personal and private about things that could directly impact the ability of a player who earns many millions of dollars to play football?" writes Mike Florio. For the 2021 NFL season, COVID outbreaks caused by unvaccinated players will result in forfeits—and, thus, missed paychecks—if games can't be rescheduled.
Cousins, who has two young sons, is known as a hardworking, savvy player. That makes his anti-vax stance "baffling" to USA Today columnist Nate Davis. "You'd think such a driven guy would want every advantage at his disposal," he writes. "But the edge conferred by COVID-19 vaccines isn't one Cousins wants."
Davis adds, "It's probably folly to think determination and self-confidence will allow [Cousins] to continuously sidestep COVID-19," and "It's easy to extrapolate this situation into a regular-season disaster." The columnist indicates he can't understand why the quarterback is "willing to encase himself in plastic, but he won't get a shot or two to protect himself and teammates."
Vikings Coach: 'I just don't understand'
Cousins, by defying the preferences of his league and team, is also frustrating Vikings' coaches and ownership. Head coach Mike Zimmer isn't happy that two of his three QBs aren't vaccinated. "I just don't understand. I think we could put this [pandemic] to bed if we all do this. But it is what it is," Zimmer said earlier this week.
"These guys, some of them just won't [get the shots]. I shouldn't say it, but some of the things they read is just, whew, out there," Zimmer added. "I don't know if it's misinformation. It's their belief, so whatever they've heard or read or been told. … Maybe they don't believe what [NFL chief medical officer] Dr. [Allen] Sills and the NFL is telling them either."