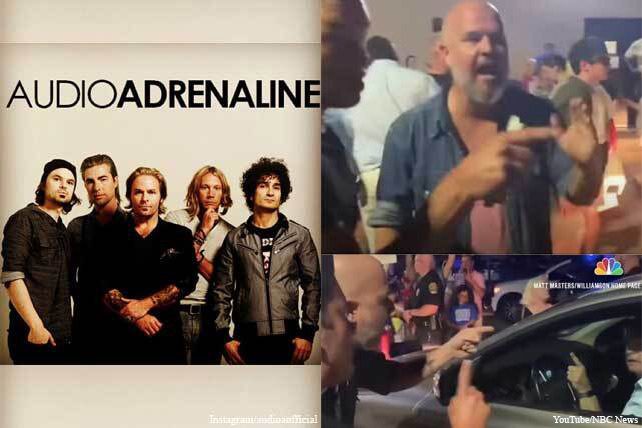 A video of a Tennessee school board meeting in Williamson County went viral after anti-maskers heckled masked healthcare workers and parents leaving the meeting on Tuesday night. During the Williamson County School Board meeting, board members approved a temporary mask mandate for their elementary schools due to the re-emergent rise in COVID-19 cases.
After the meeting, Williamson County School Board members and professional health care workers can be seen exiting the building only to be greeted by a group of unhappy residents and parents who not only disagreed but were also fuming over the decided mask decision.
The Tennessee Holler identified one of those parents as Dwayne Larring, the former guitarist of Christian band Sonicflood, winner of two Dove Awards. Larring also was of a member of the reconstructed iconic Christian rock band Audio Adrenaline in 2013, a lineup Kevin Max was called in to front.
Larring can be seen keeping the peace on a circulating viral video being played on multiple news outlets. But he is also the one shouting at and threatening Michael Miller, a parent and a health care data analyst, who spoke in favor of the mask requirement.
Telling disgruntled parents and residents to "keep it calm," as they yelled, "No more masks!" and followed Miller to his car, Larring told the crowd that the police were on their side. "Just calm down," he said.
Related article: Beth Moore Calls Out Unvaccinated, Unmasked Christians; Greg Locke and Sean Feucht Respond
One protestor yelled, "There is a place in hell for you guys! There is a bad place in hell and everybody's taking notes."
Larring then turned his attention to Miller, saying, "We know who you are! You can leave freely, but we will find you," as he pointed his finger in anger not far from his car window.
The former Audio Adrenaline guitarist immediately told the protesting crowd, "Let him out, let him out," helping police make a path so the health care data analyst could drive away.