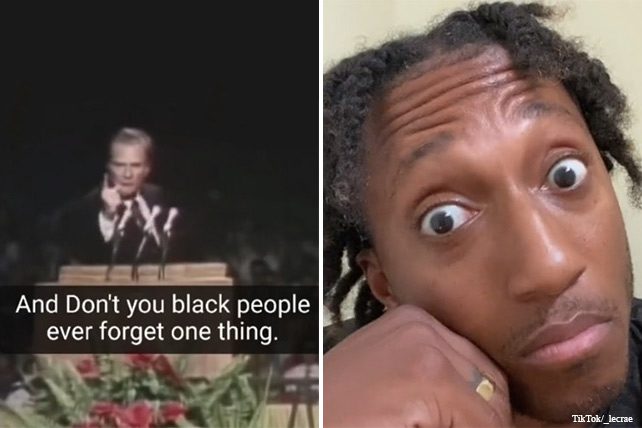 The not-so "churchy" Christian hip hop artist and Grammy award winner Lecrae posted a Billy Graham video on TikTok that has received over 477,000 views and 11,000 comments and continues to grow.
The video is a split screen of a vintage Billy Graham sermon on top and Lecrae's reaction to the sermon on the bottom.
Lecrae doesn't say a word during the entire 55 second video, yet uses facial expressions to speak his thoughts regarding Graham's words to the crowd.
The clip of Graham's sermon was taken from a 1971 crusade event in Chicago.
"And don't you Black people ever forget one thing," Graham said in his sermon. Lecrae can be seen raising his eye to indicate he was listening and not sure where this was going.
Related article: Lecrae Shares Why He Has Rejected 'America's version of Christianity'
"The man that helped Jesus carry the cross was a Black man," Graham stated to which Lecrae's facial expression reacted in agreement, but still unsure where Graham's point was headed.
Graham who was starting to make his main point told the audience, "And don't ever forget another thing." Lecrae then shows an anticipated "I'm listening" type of look in the camera.
"Jesus belongs to Africa as much as he does to Europe and Asia," Graham preached and Lecrae again nodded in agreement. "He was born in that part of the world that touches Africa and Asia and Europe," Graham continued.
Then Lecrae gave a look of surprise when the iconic evangelist told the crowd, "And Jesus was not a white man like me!"
Related article: Not Desiring God–John Piper's Son Criticizes His Upbringing to 925k TikTok Followers
As Graham continued he also said, "Nor was he as Black as some of you." Because we have no physical picture of Jesus, other than what is depicted in Scripture Graham explained, "We don't know what the color of his skin, but it must have been a dark color like the people of His day, because He was a man like them."
Lecrae's reaction showed astonishment that came from Graham's lips; a white evangelical preacher.
"Don't ever say it's a white man's religion or a Black man's religion. It's a world religion! He belongs to the world," Graham said as the clip ends. The video shows thunderous applause to which Lecrae himself seems to also agree.
Watch the video below:
Lecrae Says He No Longer Feels He Has To Be "Churchy."
In a recent interview with NGEN Radio Lecrae shared that he went through a lot of "spiritual deconstruction" over the past few years and as he is "reconstructing" admits "I love Jesus, but I'm not 'churchy.'" Something Lecrae said he used to be ashamed of.
Lecrae's definition of "churchy" doesn't mean disfellowshipping with believers but it's a Christian culture that looks and talks a certain way.
His deconstruction was more about deconstructing from "America's version of Christianity," than Biblical absolutes found in Scripture. This seems to be something Billy Graham was helping to do in 1971 when he told thousands of people in that room that Jesus wasn't a white man.