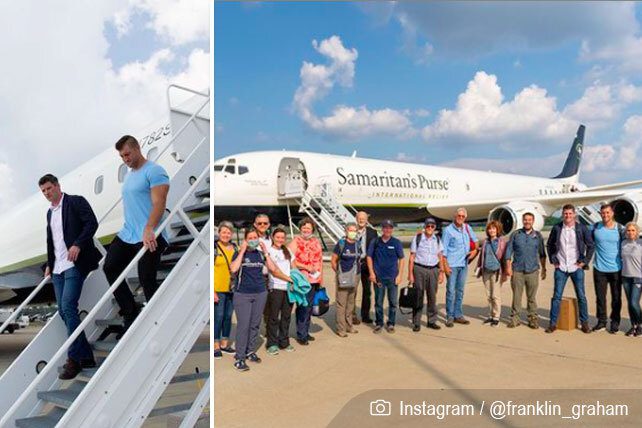 As U.S. aid organizations work to help the tens of thousands of Afghan refugees who recently arrived in America, one group is receiving a hand from Christian athlete Tim Tebow. Just weeks after his latest NFL comeback attempt fell through, the 34-year-old partnered with Samaritan's Purse to deliver supplies and to share God's love with people recently displaced from their homeland.
Traveling to an undisclosed location on a Samaritan's Purse plane, Tebow and Edward Graham, grandson of evangelist Billy Graham, helped make deliveries to the group's Disaster Assistance Response Team. Afterward, Tebow shared photos and Scripture on social media, urging Americans to pray for Afghanistan and other global crises.
Samaritan's Purse Founder Franklin Graham Thanks Those Involved
Before the Taliban regained control of Afghanistan this week, North Carolina-based Samaritan's Purse partnered with organizations on the ground to evacuate hundreds of people, including 80 missionary families. In addition, the group's cargo plane delivered medical personnel, hygiene items, blankets, and medical kits to facilities in Afghanistan.
Franklin Graham, founder of Samaritan's Purse, thanked everyone involved in the efforts—including his son, Edward, and Tebow. "Protocols changed, and evacuees weren't even allowed to bring a suitcase when they left," Franklin Graham writes about the Afghan refugees. "Our medical team was able to deliver a baby by C-section as soon as they arrived in one location. We thank God they were there to help."
About Tebow, he adds, "Tim was a great encouragement to everyone on the ground." Franklin Graham also thanked the U.S. military for "doing such an incredible job in the toughest of circumstances." Before the American withdrawal was complete, 13 servicemembers were killed in a suicide bombing.
Describing the operations, Edward Graham writes, "I was so encouraged by the volunteers and military personnel I saw loving the Afghans fleeing from the evils of the Taliban. After all the discouragement, know that America will rally and work together to help those suffering. Proud of our military and their families."
Edward Graham also urges Christians to pray for Afghans as their neighbors in need. "We may not see eye to eye in our faith," he writes, "but these are people that are going to be persecuted because they didn't support the Taliban. They didn't support evil, and evil is going to stomp them out."
Tim Tebow: Global Challenges Provide Opportunities
Tebow, the son of missionaries, also urges Christians to pray and act—for the situation in Afghanistan as well as other trials throughout the world.