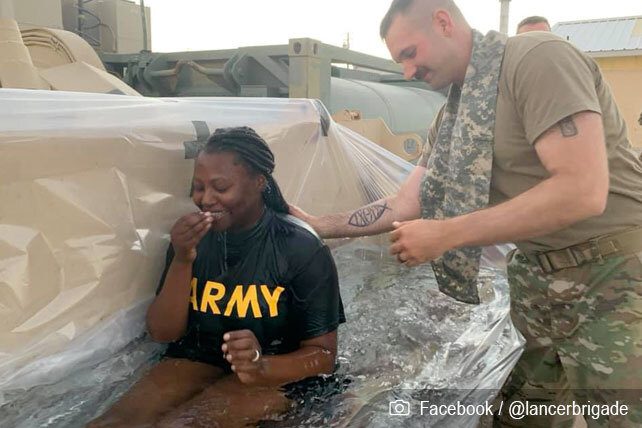 Seven soldiers with the 2nd Stryker Brigade Combat Team, 2nd Infantry Division were baptized Sunday, Aug. 29, at the National Training Center (NTC) in Fort Irwin, Calif.—despite there being no chapel or "proper" baptismal at hand. 
"Chaplains from across our brigade made it happen yesterday when seven of our Soldiers wanted to be baptized," said the division in a post on its Facebook page. "With no chapel or equipment to facilitate, our chaplains came together and created a makeshift tub at the National Training Center/Fort Irwin and got the job done. A fine example of Lancers being experts at their chosen field craft!"
RELATED: The Quiet Spiritual Revival Brewing in the US Army
2nd Stryker Brigade Combat Team, 2nd Infantry Division 
The 2nd Infantry Division "is the last remaining permanently forward-stationed division in the U.S. Army." Its mission is to maintain peace on the Korean Peninsula. When the division wraps up its time at the NTC, it will conclude its 400th training rotation. 
Brig. Gen. Jeff Broadwater told the El Paso Times in 2017 that the National Training Center offers training "like no other place in the world." Troops go through exercises in 116 degree heat on little sleep, making it challenging to accomplish even the most basic tasks, as they prepare for various missions in the field. 
"Everyone has stories about NTC," said Broadwater. "I can still remember what we did well when I was a squadron commander and a brigade commander in my NTC rotations—and things we didn't do well."
On Aug. 27, the 2nd Stryker Brigade Combat Team, 2nd Infantry Division posted images of troops in the midst of such training "perfecting their craft."