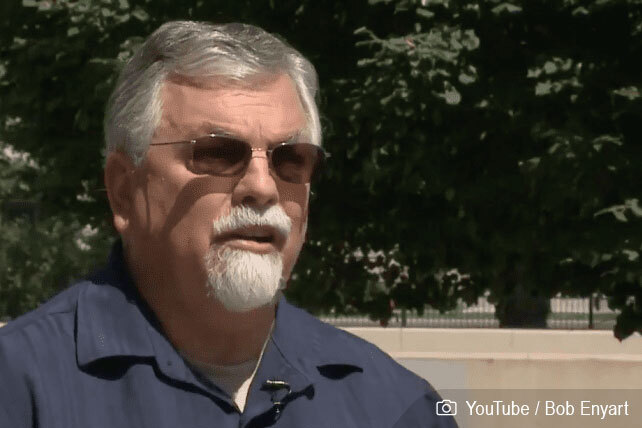 Denver-area pastor and conservative talk-radio host Bob Enyart, who refused to be vaccinated against COVID-19 and successfully fought mask mandates in court, has died from COVID-19. Enyart, who called himself a "right-wing religious fanatic," said he opposed coronavirus shots because of pro-life concerns. Last fall, Enyart successfully sued the state of Colorado over pandemic-related public health mandates, including capacity limits in churches.
Enyart and his wife were both hospitalized with the virus for more than a week. Denver Bible Church, the congregation Enyart led for more than 20 years, confirmed his illness earlier this month. A September 3 Facebook post mentions "daily" improvements and the anticipation of "a full recovery." But on Monday, Enyart's radio co-host confirmed the 62-year-old had passed away. "Heaven's gain has left an enormous hole here on earth," writes Fred Williams of the "Real Science Radio" show.
Bob Enyart's 'Enduring Legacy' of Conservatism
Calling Enyart "without question the wisest person I've known," Williams promises that "Bob's enduring legacy will live on." Based on media coverage of Enyart, he leaves a legacy as a controversial "firebrand." During the 1990s, he reportedly traveled to New Zealand to be arrested while displaying a banner that read "Clinton is a Rapist." And on a previous TV show, he "gleefully read obituaries of AIDS sufferers while cranking [the song] 'Another One Bites the Dust.' "
Enyart, a former director of Colorado Right to Life, once said women who have abortions should face the death penalty. He called for a boycott of COVID vaccines, saying they were "tested…on the cells of aborted babies." A boycott, he hoped, would "further increase social tension and put pressure on the child killers."
Before Enyart's death, his church posted: "We grieve for the poor Lost souls that daydream about dancing around the hospital bed of our Pastor and wish – he suffer greatly, then die." Although most "messages received by our church have been overwhelmingly favorable," it adds, the ones filled with "malice" have been "desperately Cruel and Sad." In early September, Denver Bible Church noted: "When Pastor Bob recovers, his message will go out louder than before, [though] his voice may quiver a bit."
A Disturbing Trend of Recent Deaths
Enyart is at least the fifth conservative talk-radio host to die from COVID-19. Previously, Marc Bernier, Phil Valentine, Jimmy DeYoung, and Dick Farrel succumbed after publicly opposing vaccines and/or public-health mitigation efforts. All the men were over 60, putting them at higher risk for complications from coronavirus infection. Several lived in states that have been particularly hard hit by the highly contagious delta variant. Some of the hosts had a change of heart about vaccines after they fell ill.
Supporters of the media personalities defend their right to free speech. But critics say the "paranoid rhetoric" and government-bashing are dangerous, especially during a pandemic. "The vaccine isn't the problem," says media professor Jerry Del Colliano. "Talk radio is." Media companies, he adds, "are risking the health of their audiences even as anti-vaxxer bloviators continue to die."
As for Pastor Enyart, his co-host Williams writes, "The number of lives he touched is immeasurable and I'm sure Jesus has an extra special place for him in heaven. 'Well done, good and faithful servant.' "