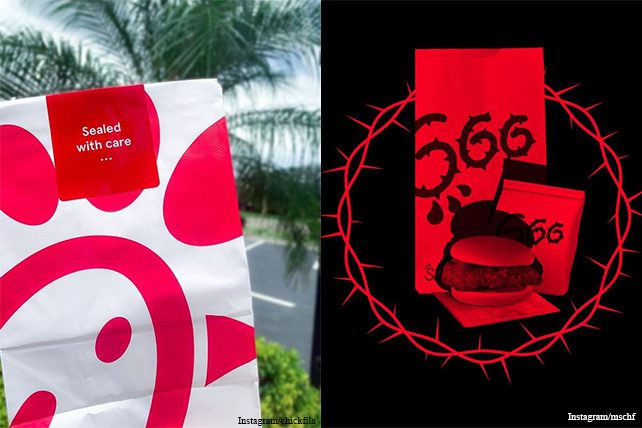 The controversial, Brooklyn-based art collective MSCHF recently known for designing and selling Lil Nas X-inspired "Satan Shoes" that allegedly contained a drop of human blood in the sole, is now taking aim at the Christian-owned fast food restaurant Chick-fil-A.
MSCHF sold out of the 666 custom-modified Nike satanic shoes within a matter of hours. The shoes featured satanic symbols, including a pentagram, the number 666, and a Bible verse referencing Satan (Luke 10:18). MSCHF was later ordered by a judge to stop selling the shoe after Nike filed a restraining order against them for modifying and reselling Nike's Air Max 97 shoe without permission, which is a trademark infringement. Nike claimed customers had started boycotting the shoe company because they believed Nike was involved with MSCHF's project.
MSCHF has now turned its attention to Chick-fil-A with a campaign apparently meant to mock the company's Christian beliefs and values.
MSCHF posted on its website that it will be selling Chick-fil-A sandwiches on Sunday, September 26, 2021, at an undisclosed location. They are titling the event "Sunday Service," an apparent play on words with Kayne West's well-known Christian worship services.
To purchase a sandwich on a day when all Chick-fil-A locations are closed, the site instructs those interested to provide their name, phone number, and zip code. MSCHF will then send a text those close to the undisclosed location and inform them where they can go to purchase a day-old chicken sandwich.
MSCHF's Sunday Service website is full of satanic imagery, including a modified version of Chick-fil-A's logo made to read 666. To many, the publicity grab is seen as an overt attempt to mock Chick-fil-A's family values that stem from their founder S. Truett Cathy's Christian upbringing and faith.
Related article: Converse 'Sells Out' to Satan With New Pentagram Shoe
"Certain American values go hand-in-hand. For example, conservative Christianity pairs perfectly with a correspondingly devout faith in the 'free market,'" MSCHF says. "That being the case, f@#k it, let's take advantage of the obvious hole in the market left by notoriously Christian restaurant chain Chik-fil-A's (sic) sabbatarianism. 'The market finds a way,' and, in this case, it's the road to hell. Hail Satan and Eat Mor Chikin on holy days."