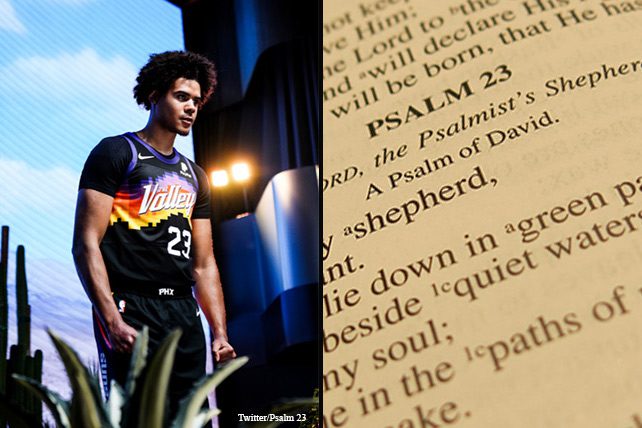 Last week, Phoenix Suns' power forward Cameron Johnson revealed the deeper meaning behind his jersey number 23 when asked about it by sportscaster Marco Peralta. It's a reference to Psalm 23.
Peralta, whose Twitter profile reads "God 1st," asked how Psalm 23 influences the way Johnson plays basketball. Johnson shared how his grandmother would use the Bible passage as a prayer. "My grandma, she's a prayer warrior to the fullest extent, and she kind of told my dad to use this Bible passage as a prayer every time you go into a game, into a competition, into an important meeting—whatever it may be, and he instilled that down into me."
Johnson says that he has prayed the Bible passage before every game since high school, reciting it during the national anthem.
The LORD is my shepherd; I shall not want. He makes me lie down in green pastures. He leads me beside still waters. He restores my soul. He leads me in paths of righteousness for his name's sake. Even though I walk through the valley of the shadow of death, I will fear no evil, for you are with me; your rod and your staff, they comfort me. You prepare a table before me in the presence of my enemies; you anoint my head with oil; my cup overflows. Surely goodness and mercy shall follow me all the days of my life, and I shall dwell in the house of the LORD forever.
– Psalm 23
Related article: Orlando Magic Jonathan Isaac: Kneeling Isn't the Answer; The Gospel Is
"It's the reason I wear 23," Johnson said. The 25-year-old, who is in his second NBA season, was also a huge Michael Jordan fan growing up. The power forward was only 7 years old when Jordan, who also famously wore number 23, retired from the NBA for good.
Since Johnson played at the same college where Jordan had played, he wasn't able to wear the number 23 until joining the NBA. The University of North Carolina had retired it.
"There's no number that has the tie to me as 23 does," Johnson explained. "Because of Psalm 23, and because my middle name is Jordan and I watched Jordan videos growing up like none other…obviously I had to go back to it."
Cameron Johnson was a big Jordan fan growing up but there's a bigger reason why he decided to wear the number 23 on his back.

Another question, I got to ask during @Suns media day. 🏀☀️#Psalm23 #Psalm #Psalms #Suns #PhoenixSuns #RallyTheValley #michaeljordan #Jordan pic.twitter.com/Bej96YVFxw

— Marco "Thee Alta" Peralta (@TheeAltaPeralta) September 29, 2021
Coach Monty Williams' Faith
Peralta also inquired about the faith of Phoenix Suns' head coach Monty Williams, asking him if it influences the way he coaches or helps him through tough losses like the one the Milwaukee Bucks handed them in the NBA Finals.
"The biggest thing about my faith is that I'm just not all that," Williams said. "I'm a part of a plan and an assignment that is much bigger than basketball. The Lord has been so good to me to allow me to be in this position for as long as I have been. I know I don't deserve that based on who I am."
Williams told Peralta that studying the Bible "humbles" him and forces him to "lay his life down for the staff and players, because that's what I am called to do."
Related article: Suns Coach Monty Williams Reveals His True Character After Disappointing Loss
Losing the NBA Finals wasn't easy, driving Williams to what he described as a "pity party," and a state of "internal sadness." Williams said that it was prayer and studying the Bible that made him realize just how much God has blessed him.
Williams went on to say that he encourages his players that every NBA game is a "get to" not a "got to," but admitted that he fails to subscribe to his own words. "As if I deserve to win because I earned some right," Williams said. "That's where my faith plays a huge role in all is."
Here's a question I got to ask Phoenix @Suns coach, Monty Williams on how much his faith influences his coaching and how it helped him bounce back after losing the finals against the Bucks. 🙏🏼🏀☀️#Suns #PhoenixSuns #NBA #RallyTheValley pic.twitter.com/SlfJG7JxN4

— Marco "Thee Alta" Peralta (@TheeAltaPeralta) September 28, 2021