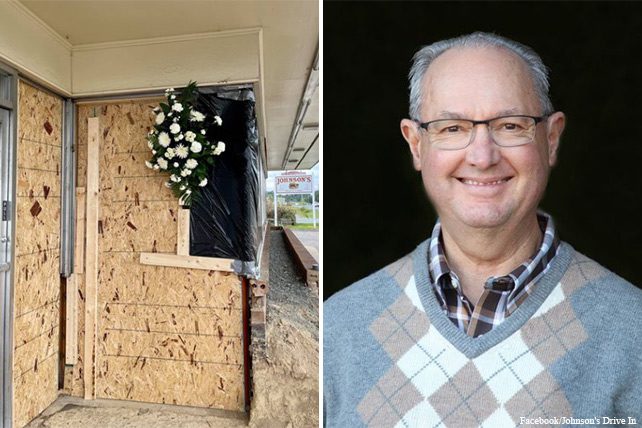 Mark McKinney, pastor of New Life Church in Sliver City, North Carolina, was fatally struck by a vehicle at local hamburger restaurant Johnson's Drive-In last Friday, October 8, 2021. He was 64.
McKinney and his wife Dee are the founding pastors of New Life Church and have served there for the last 22 years. Their son Matthew serves as the associate pastor, and Matthew's wife Jennifer serves as their preschool pastor.
The vehicle was driven by 60-year-old Silver City resident John Salvatore Graviano. According to WTVD News, Graviano was charged with "misdemeanor death by vehicle, failure to reduce speed to avoid an accident and driving left of center."
Graviano crashed into the building after colliding with another vehicle when he crossed the road's center line. Graviano continued driving into oncoming traffic, then into a grassy area near the Johnson's Drive-In's parking lot. His vehicle continued through the parking lot, striking the building, along with patrons who were waiting to receive their food orders.
In addition to striking McKinney and killing him instantly, three others were hit. A 77-year-old woman was airlifted to a nearby hospital and remains in serious condition. A 39-year-old woman and 18-year-old man were taken by an ambulance to be treated for minor injuries.
Related article: Pastor Gerry Standley Killed After Plane Crashes Into Home
Johnson's Drive-In owner Carolyn Routh was in the back of the restaurant at the time of the crash. Explaining what she saw, Routh said, "I was coming around the corner and coming into the front when I heard the commotion and looked out and saw customers scrambling — and then saw the car come through the building."
Routh grew up in Sliver City and took over the the eatery after her father retired this past January. Johnson's Drive-In was originally owned by her grandfather.
Routh said, "This is like seeing your home destroyed, so that's shaken me a little bit, too, but at the end of the day, it's bricks, it's mortar, it's glass; it can all be repaired." Routh sees most of her regular customers as family. "My focus right now, my primary concern are on the people that were hurt," she stressed.