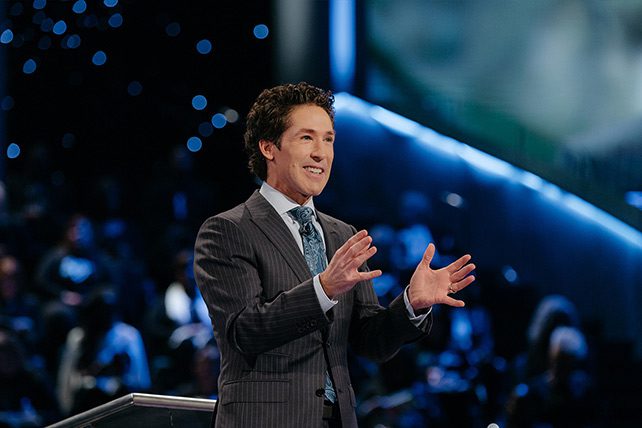 The plumber who recently revealed to the Morning Bullpen at 100.3 The Bull in Houston, Texas that he found hundreds of envelopes filled with cash, checks, and money orders hidden in a bathroom wall of Joel Osteen's Lakewood Church is now voicing his disappointment that the megachurch's pastor hasn't reached out to him.
Local news station KPRC reported that the plumber, whose name is Justin, shared, "I wanted to hear [Osteen] say, 'You know, Justin, what you did was right. We understand what you did and what you could have done.'"
Justin further expressed his frustration with Osteen, saying, "I feel like, at this point, I should have heard something. I'm just a little upset."
The money Justin found is linked to an unsolved 2014 theft, in which Lakewood Church reported $600,000 missing from their safe.
With regard to the money being found in a bathroom wall, KPRC reported that longtime church attendee Benito Rodriguez was actually discouraged when he heard the news. "I was discouraged the first time. I was discouraged, and now I am more discouraged because they found it. It doesn't make any sense," Rodriguez said.
RELATED: Plumber Finds 500 Envelopes of Money in Wall of Joel Osteen's Church
Houston Police Department (HPD) released a statement last Friday after the news of the money found within the walls of Lakewood Church had gone viral. The statement read, "About 2:30 p.m. on November 10, Houston police officers were called to Lakewood Church at 3700 Southwest Freeway for a report of property discovered in the building. Church members stated that during a renovation project, a large amount of money—including cash, checks, and money orders—was found inside a wall."
"Burglary and theft officers responded and began investigating. An undisclosed amount of money was inventoried, documented, and left in the custody of the Lakewood Church since it was property found on its premises," the statement continued.
HPD acknowledged Justin's discovery is connected to the 2014 case, saying, "Evidence from the recovered checks suggests this November case is connected to a March 9, 2014 theft report of undisclosed amounts of money at the church."
"The investigation is ongoing. No other information is being released at this time," HPD's statement concluded.