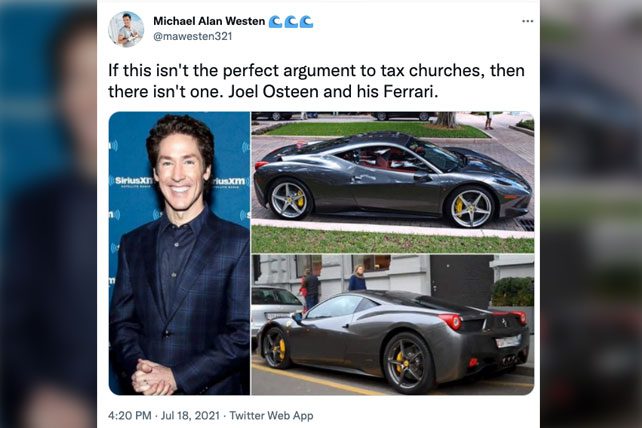 Joel Osteen, pastor of Lakewood Church in Houston, Texas, is in the news again and this time people are criticizing him for purchasing a Ferrari. After photos surfaced of the megachurch pastor with a $325,000 luxury car over the weekend, the Twitter quips abounded.
"I wonder if Joel Osteen thinks he can drive that Ferrari through the eye of a needle," said one user, alluding to Jesus' statement in Matthew 19:24 that "it is easier for a camel to go through the eye of a needle than for someone who is rich to enter the kingdom of God."
If this isn't the perfect argument to tax churches, then there isn't one. Joel Osteen and his Ferrari. pic.twitter.com/EGBL4uWI9W

— Michael Alan Westen 🌊🌊🌊 (@mawesten321) July 18, 2021
Joel Osteen's Ferrari…Or Not 
"Ferrari is trending," said Mrs. Betty Bowers, a satirical character portrayed by comedian Deven Green. "That means either someone won a race or Joel Osteen took some of the money Jesus told him to give to the poor and went on another shopping spree."
Film producer Franklin Leonard said, "In Joel Osteen's defense, Jesus also drove a $325,000 car and lived in a eight figure 17,000 square foot home. You want him to park a Prius here? God don't like ugly."
"Joel Osteen has made religion a lucrative career and the fact that he drives a $325,000 Ferrari as he asks people to send him money only shows how morally bankrupt he is," said a user named Josh Jordan. Several people responded to Jordan, pointing out that Osteen does not take a salary from Lakewood, but makes his living from his book sales. 
Christian news satire site The Babylon Bee took a shot as well, on Sunday tweeting a May post with the headline, "Joel Osteen Unveils New Ultra-Thin Yacht That Can Fit Through The Eye Of A Needle." 
The only problem with all of the furor over Osteen's Ferrari is…the Ferrari in the photos is not his. In fact, the two photos do not even picture the same car. Of course, Osteen is wealthy and might actually own a luxury vehicle. But there is no evidence he owns either of the cars depicted in the meme.
"While Joel Osteen has an estimated net worth of more than $40 million," said fact-checking site Snopes, "claims about the pastor's exotic car collection are speculation. Furthermore, a set of photographs supposedly showing Osteen's $325,000 Ferrari actually features an unrelated vehicle."
Snopes said that one of the images is from a 2010 post on Flickr, while the other appears to be from this YouTube video. "We have not been able to find any verified reporting that Osteen owns a $325,000 Ferrari," said the site. "There don't appear to be any photographs of Osteen driving this exotic sports car, and we have not been able to find any statements from Osteen in which he talks about an exotic collection. This rumor appears to be little more than an assumption."
Joel Osteen's Ministry
This week's uproar is reminiscent of the one that occurred in 2017 when Osteen was widely criticized for not opening Lakewood Church to people displaced by Hurricane Harvey. Social media users blasted Osteen, who explained that the church was not open at first because of flooding in the building. Accounts differed as to whether or not the flooding was real, but Lakewood did later receive evacuees. The church also functioned as a warming center earlier this year when Texas saw an unprecedented drop in temperatures and extreme winter weather left many people across the state without power.