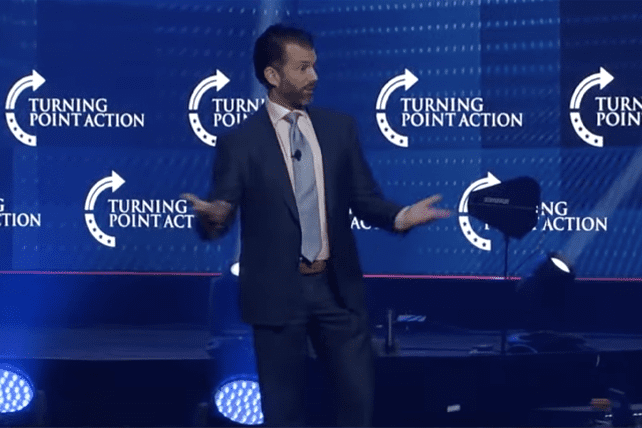 On Sunday (December 19), Donald Trump Jr. was a featured speaker at Turning Point USA's 2021 AmericaFest, a four-day event for young conservatives that was hosted in Phoenix, AZ from December 18 to December 21. 
Founded by Charlie Kirk, Turning Point USA is a nonprofit organization that seeks to "identify, educate, train, and organize students to promote the principles of freedom, free markets, and limited government." 
Featured speakers at AmericaFest included Fox News pundits Tucker Carlson and Jesse Watters; former press secretary Kayleigh McEnany; congressional representatives Lauren Boebert, Marjorie Taylor Green, and Matt Gaetz; Texas Senator Ted Cruz; evangelist Nick Vujicic; and pastor of Calvary Chapel Chino Hills Jack Hibbs. 
While his father, former president Donald Trump, addressed congregants at First Baptist Dallas with a mix of Christmas tidings and political talking points, Trump Jr. spoke to a room full of young conservatives, calling Jesus' command to "turn the other cheek" into question and implying that an overabundance of civility on the part of conservatives has kept them from winning the culture.
Trump Jr., whose entrance was accompanied by pyrotechnics and confetti, told the audience, "If this was any other crowd, I'd be giving the 'I told you so' speech. But you knew it, right? I mean, we had this conversation this time last year. I said, 'This is what's going to happen,' and lo and behold it has."
"Every day when I wake up now, I feel like we must have had hit bottom already, right? And that's the one place where I say Joe Biden has overperformed," Trump continued. "I thought it would take him at least four years to destroy America. He's crushing it, folks! In a bad way, but he's a dominant force in blowing it."
Trump went on to criticize Biden's foreign policies, as well as liberal stances on transgender rights, police reform, and gun control. He also argued that the FBI has done less than it should have about racial unrest throughout the country and that they have been overzealous about the Capitol insurrection that took place on January 6 of this year. 
Trump then told the audience that this was why events like AmericaFest are so important, arguing that government institutions are "controlled by the left."
"We are the frontline of freedom. We are the frontline of liberty. And if we band together, we can take on these institutions. But we gotta do it together, okay? That's where we've gone wrong for a long time," Trump said. "And I've, you know, if you've been and seen me speak here, you've heard me say it a thousand times. But guess what, folks? If we get together, they cannot cancel us all, okay? They won't."
"And this will be contrary to a lot of our beliefs, because I'd love not to have to participate in cancel culture. I'd love that it didn't exist," Trump continued. "But as long as it does, folks, we better be playing the same game, okay? We've been playing tee-ball for half a century, while they're playing hardball and cheating, right?"