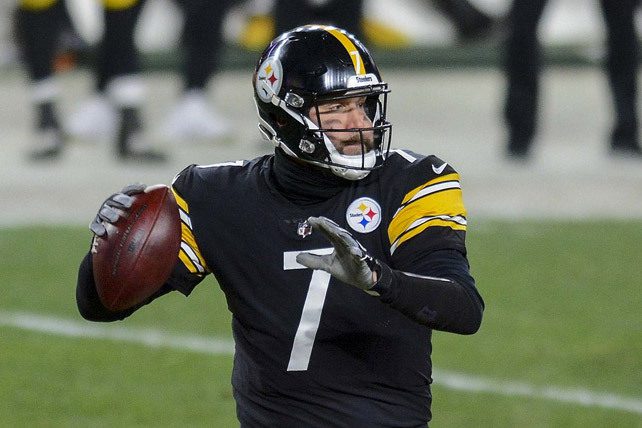 Ben Roethlisberger, who has spent his entire 18-year NFL career with Pittsburgh, thanked God, teammates and fans Monday after what was likely his final game at Heinz Field. "The good Lord has blessed me in so many ways," the Steelers quarterback told an ESPN reporter following a 26-14 win over division rival Cleveland. "I'm so thankful and blessed to be able to call this place home for almost half my life," he added.
All season, retirement rumors have swirled around the 39-year-old QB, nicknamed Big Ben. Last week he told a reporter, "I think I've been here long enough."
With an 8-7-1 record this season, the Steelers are still in the AFC playoff hunt. Last year ended with a disappointing wildcard playoff loss, and before that, an elbow injury sidelined Roethlisberger for most of the 2019 season.
Ben Roethlisberger Honored by Fans
Despite frigid temps, grateful fans filled the stands Monday night to honor the longtime quarterback. Roethlisberger received a loud pregame ovation, and fellow team captains let him handle the coin-toss duties alone at midfield.
Thanks to a Steelers interception near the end of the fourth quarter, Roethlisberger was able to end the game with a kneel-down—later calling it "the best play in football when you're an offensive player." Then the QB walked around his home field, signaling gratitude to cheering, sign-waving fans.
In the postgame interview, Roethlisberger noted that Monday's game was far from perfect. "It's probably not the way you wanted it, other than the win," he said. "That's all that really matters. That's kind of been the story of my career. It's not always pretty, but we find a way."
During his lengthy career, Roethlisberger won two Super Bowls and was named to the Pro Bowl six times. Steelers coach Mike Tomlin expressed gratitude for "the last 15 years with him," saying, "We've been through a lot. We've seen a lot. It's been a heck of a ride."
QB Strives for a 'Closer Walk' With Jesus
At last year's ManUp Pittsburgh conference, Ben Roethlisberger described how Jesus has restored his faith and renewed his life's purpose. "Jesus is the One who brought me back to him, and I'm so thankful for it, because I feel I'm a better Christian, a better husband, and a better father today because of his forgiveness of me," he said.