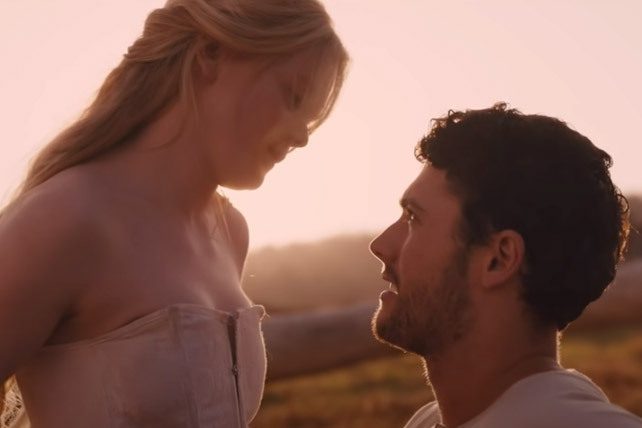 Editor's note: This article on "Redeeming Love" contains spoilers and makes references to sexual trauma that some may find triggering.
The film, "Redeeming Love," which is based on the best-selling Christian novel of the same name, released today in theaters. Author Francine Rivers says her story demonstrates "the pursuing love that God shows to His people," but some have voiced concerns about its sexual content, its depiction of God and the gospel, and its portrayal of sexual trauma.
"I want people to see that no matter what's been done to us or the sins we commit, God loves us and offers us new life through Jesus," Rivers told the Christian Post ahead of the film's release. "We all have to make a choice. Surrendering to Jesus is the one decision that changes us from the inside out and sets us free to love as God loves us. I wanted viewers to see the difference between what the world says love is and what real love looks like."
However, Christian author and theologian Phylicia Masonheimer believes that Christians should exercise caution with Rivers' book and her film. "I really believe that there are some people who've been genuinely touched and healed in some ways by this book," said Masonheimer in a recent episode of her podcast, Verity. "I don't doubt at all that that has happened and that's why I want to be gentle and careful in how I talk about this. However, when we recommend material like this with no caveat or context, we are potentially setting an enormous stumbling block in front of young women who are struggling with pornography, which is what erotica is. In 'Redeeming Love,' there is soft pornographic content." 
'Redeeming Love' Aims to Reveal the Love of God
Francine Rivers is a bestselling author who used to write erotic historical fiction before she became a Christian and started writing Christian romance novels. She published "Redeeming Love" in 1991, loosely basing it on the biblical book of Hosea, where God commands the prophet Hosea to marry a promiscuous woman named Gomer. Hosea must pursue even Gomer when she leaves him for other men, and his marriage mirrors God's faithfulness to his covenant with the people of Israel, who repeatedly commit idolatry by worshiping other gods. 
"Redeeming Love" is set in California in 1850 during the Gold Rush. The story follows a woman named Angel, the most sought-after prostitute in the town of Paradise, and Michael, a farmer who marries and loves her no matter what she does. 
One point that should be noted up front is the movie portrays scenes of violence, both sexual and otherwise, that could be triggering to certain viewers. Angel, whose real name is Sarah, learns early in her life that men cannot be trusted. When she is a little girl, her maid tells her, "All men want to do is use you…None of them care." 
Angel's life experience repeatedly confirms this statement. She is an illegitimate child of an abusive father who cuts Angel and her mother off. Angel's mother turns to prostitution to survive and later dies of an illness while reciting the Lord's Prayer. Because of this experience, Angel rejects God.
She then comes under the power of a man named Duke who sexually abuses and prostitutes her. In addition to sexual abuse, the trauma Angel experiences during her life includes sleeping with her own father, rape, being beaten and strangled, and enduring a forced abortion. This is not to mention the fact that people are constantly using her for their own ends. She ends up working under a different pimp, as well as a madam, in a brothel in Paradise. 
In contrast, Michael Hosea is a hard-working farmer who is faithful to God and prays to him for a wife. After he sees Angel walking in the street one day, Michael believes God is telling him to marry her (something clearly spelled out in the novel). Michael pays to see Angel, but instead of sleeping with her, proposes to her. She refuses. He returns a second time, only to have her refuse again. He returns once more, arriving right after Angel's pimp has beaten and presumably raped her. He asks her again to marry him. When she says, "Sure," he pays to take her home to his farm.