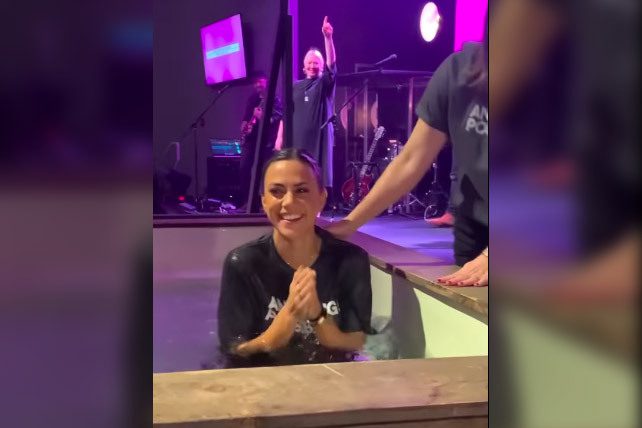 Jana Kramer, 38, has shared that she was baptized on Sunday, Jan. 23. The actress and country music singer posted a video of her baptism on Instagram and later posted a photo where she shared more of her story. 
"This is my battle cry," said Kramer in the caption of the photo, which showed one of the moments before she was dunked in the baptismal pool. "This is the day I stopped walking alone. The beauty is…I was never alone. He was always walking with me…I just didn't think I deserved that."
Jana Kramer: 'I Pushed God Away for Years'
Jana Kramer has appeared on a variety of television shows including "Friday Night Lights," "CSI: Crime Scene Investigation," and "Grey's Anatomy," but is perhaps best-known for her role as Alex Dupré in "One Tree Hill." Kramer has also appeared on "Dancing with the Stars" and has released two studio albums, as well as a number of singles. 
In her Instagram post, Kramer explained why it was hard for her to trust that God would not abandon her:
Looking up to a "father figure" with my past was hard to believe or have comfort in. I didn't think he would stay. That he wouldn't hurt me. So I pushed God away for years. But last year in the brokenness and quite [sic] moments alone, I realized I wasn't truly alone. That HE was there. That HE never left. God was just waiting for me to come to him. And I have…and today I made my faith public and it feels really good to know no matter what happens next on this journey of life, HE is next to me walking with me. God is walking with you too through all the good and bad times, so let HIM in. I hope this encourages someone to take that next step because you aren't alone… "In the name of Jesus there is healing".
She concluded by quoting Lamentations 3:22-23, which says, "The faithful love of the Lord never ends! His mercies never cease. Great is his faithfulness; his mercies begin afresh each morning." 
This is not the first time that Jana Kramer, a mom of two, has spoken publicly about her faith. On Father's Day of 2021, she posted on her Instagram story, "​Today might be hard for some. I know it was for me for years but forgiveness, understanding and growth is a beautiful thing. Here's one that I've learned though and was talked about in church today. God is a father that will never leave you, will always love you no matter what. He will always be there to listen and to love you. Let him love you." At the time, Kramer was going through a divorce from her ex-husband, Mike Caussin.