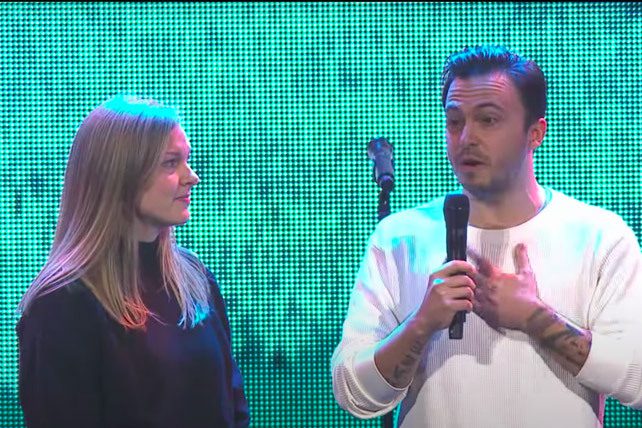 Robby and Jenny Lewis have stepped down as pastors of Hillsong Church UK's Central London campus. The couple thanked the congregation at the end of a service on Sunday, Jan. 30, when their departure was announced, but gave no indication as to why they are leaving.
"I just want to say thank you to every single one of you for the last 12 ½ years, everything that you have poured into me," said Robby Lewis to the congregation. "All the encouragement, the love, allowing me to be part of your life. A number of years ago, I said, 'I am who I am today because of all of you,' and I absolutely mean that. We're standing here because of you, because of all the encouragement, because of who you are that's rubbed off on us, and we couldn't be more grateful."
Robby and Jenny Lewis Step Down From Leadership
Hillsong Church is a global megachurch founded by Brian and Bobbie Houston in in 1983 in Sydney, Australia. The church has multiple locations in at least 29 countries. According to Hillsong's website, Australia has 38 locations and the U.S. has 14. The site for Hillsong Church UK lists 12 campuses. 
The announcement about Robby and Jenny Lewis was made by Tim Douglass, who simply said that Robby Lewis would be "moving on." Tim and Nicola Douglass took over as lead pastors of Hillsong UK last March when then-pastors Gary and Cathy Clarke transitioned to different roles overseeing Hillsong globally.
The congregation welcomed the Lewises onstage with a standing ovation. "Two wonderful, beautiful people," said Tim, "hand of God on their lives…I know that you are well-loved, and I know we've been talking about this for while, but it was the right time, and I think that even in the midst of it all, God's amongst it all." 
Tim Douglass then announced Dan and Jo Watson as the new pastors of Hillsong Central London. Dan Watson is a former youth pastor and when Tim asked how he felt about leading the church in 2022, Dan answered, "We are extremely, extremely excited, and we are extremely humbled to be able to be given this honor, and following you guys," he said, indicating Robby and Jenny. "We are thankful for everything that you've done and the foundations that you've laid, and we're excited to carry on and build church, to be able to serve you, serve with you, and reach the people of this city. Man, I'm expecting for what God is going to do in and through every single one of us."