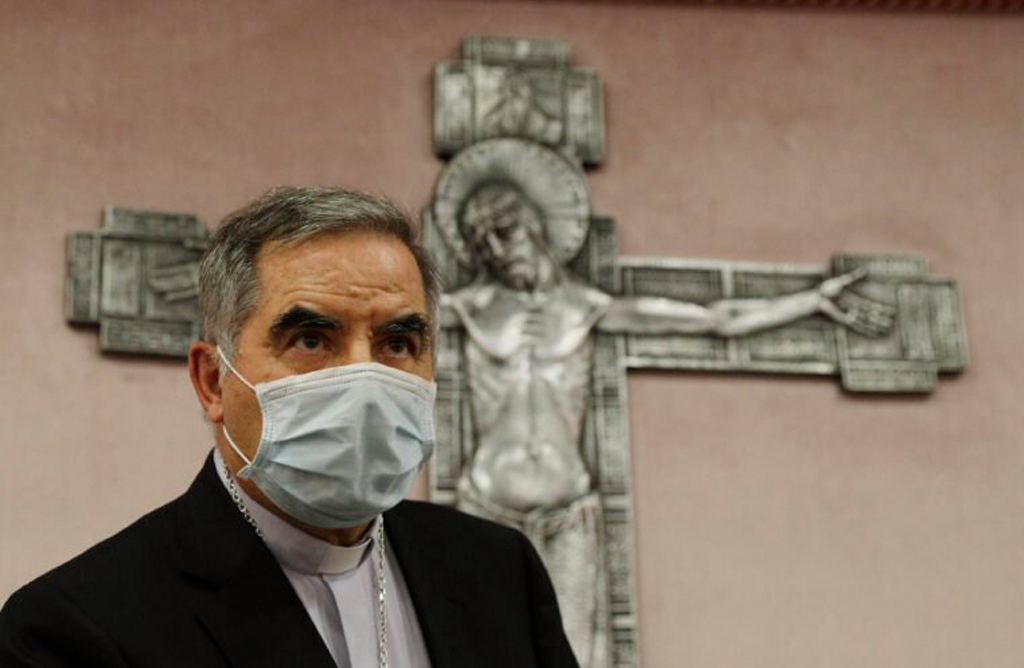 VATICAN CITY (RNS) — Cardinal Angelo Becciu, once the third-highest-ranking prelate at the Vatican and now charged with embezzlement and abuse of office, approached journalists as he entered a courtroom here Friday (Feb. 18) to rail against what he described as a "blitz" by police at the homes and offices of his family members earlier in the week.
The cardinal, who had not come to court for recent hearings in the long-running proceedings concerning a botched London real estate deal, appeared to want to respond to a week of scrutiny by the media after police raids in Rome and in other locations, including the diocese of Orzieri in Sardinia.
Police officials from both the Vatican and the Italian national force were apparently searching for evidence against the cardinal, but also, according to reports, signs of $680 million in Catholic church funds that Vatican prosecutors say Becciu funneled into the personal accounts belonging to his brother, nephew and niece.
Becciu told reporters he was "pained" by the raids and said the searches in Sardinia constituted "a humiliation for the diocese and the bishop."
Friday's hearing was the most recent in the Vatican megatrial of 10 individuals accused of defrauding the Catholic church of millions in a luxury real estate deal. Becciu is the first cardinal in memory to be subjected to prosecution after Pope Francis changed church protocols to allow his indictment.
The cardinal admitted to taking a $113,000 loan from the Vatican Bank, officially called the Institute for Religious Works, which Vatican prosecutors claim were sent to his brother's personal account, but said he paid back the amount in full. "I will defend myself in court from these accusations which I have always contested and contest still," Becciu told a group of Vatican reporters at the hearing.
After Becciu's protests, the hearing bogged down in technicalities as defense lawyers took their last opportunity to present objections to the prosecution's release of evidence before the trial gets officially underway, largely grievances that the defense has presented since the preliminary hearings began.
The defense of Enrico Crasso, who managed a significant portion of Vatican funds and holdings and is currently accused of embezzlement, extortion and money laundering, questioned the possibility of a fair trial in a state where the pope acts as an undisputed and absolute monarch.
"There is no doubt that the pope's authority as the vicar of Christ is total and indisputable," said Crasso's defense lawyer, Luigi Pannella, "but the political order of a state, even of the Vatican state, is upheld by fundamental laws that can be modified only through procedures provided by the law. The Holy Father can change the laws and practices, but so far as these laws exist in the state's legal system they must be respected."
Pannella said that the indiscriminate use by Vatican prosecutors of papal decrees, known as rescriptum, signed by Francis to circumvent legal procedures, "negates the state of law and brings us back to a situation akin to the early Middle Ages."