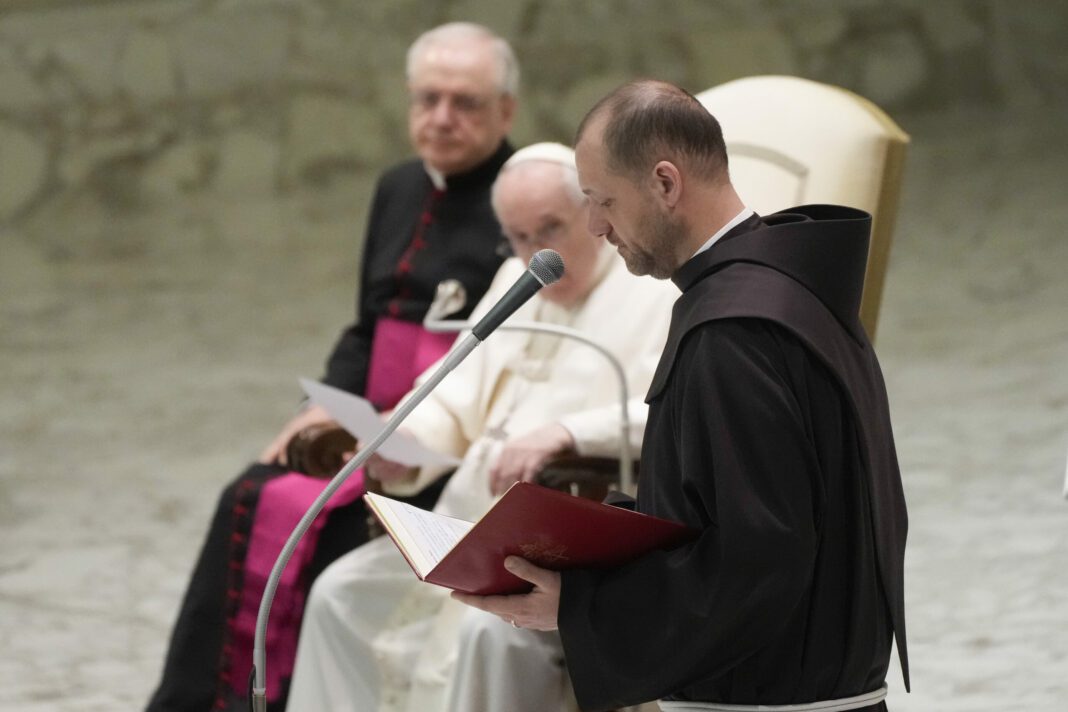 VATICAN CITY (RNS) — Pope Francis praised practical and spiritual efforts to promote peace on Wednesday (March 2), encouraging people to dedicate prayers and fasting to ending the conflict in Ukraine as the church season of Lent begins, and thanked countries that are welcoming migrants from the war-torn country.
"Let's keep the memory of this people in our hearts," he said.
Ash Wednesday, the opening of Lent, will be commemorated at the Vatican in a day of prayer and fasting for peace in Ukraine.
"For us Catholics, Ash Wednesday is already a day of prayer and fasting," said Cardinal Kurt Koch, who heads the Pontifical Council for Promoting Christian Unity, speaking to Vatican media on Tuesday. Public prayer may also "appeal to the conscience of all those who have power over war and peace," he added.
Addressing Polish Catholics during his general audience on Wednesday, Francis praised them for being the first "to support Ukraine, opening your borders and your hearts and the doors to your homes to Ukrainians fleeing war. You are generously offering them all that is necessary to live with dignity despite the dramatic moment."
"I am deeply grateful and bless you from the heart!" he added.
Francis advocated on behalf of immigrants and refugees since the beginning of his pontificate, which has seen millions seek shelter from strife in the Middle East. As a half million people are now fleeing the war in Ukraine, Europe faces a new migratory wave.
The pope's message to Poland was read to the audience by a Ukrainian Franciscan friar whose family lives near Kyiv. "His parents are right now in underground bunkers to protect themselves from bombs," the pope said, "and he's here performing his duty with us."
Francis said that by accompanying the friar "we accompany all the people suffering from the bombings" and show support for the many elderly people hidden in bunkers.
Ukrainian and Russia representatives engaged in the second day of negotiations on the Belarus border on Wednesday, but both parties reported little progress. Vatican Secretary of State Cardinal Pietro Parolin on Monday offered the mediation of the Holy See to resolve the conflict.
The conflict has complicated Francis' pursuit of ecumenical relations with the Eastern Orthodox Christian hierarchy after meeting with Patriarch Kirill of Moscow in Havana in 2016. The Vatican had hoped for a second encounter this spring, but the war has exacerbated the estrangement of the Moscow Orthodox Church and its satellite church in Ukraine from a newly recognized patriarchate based in Kyiv.