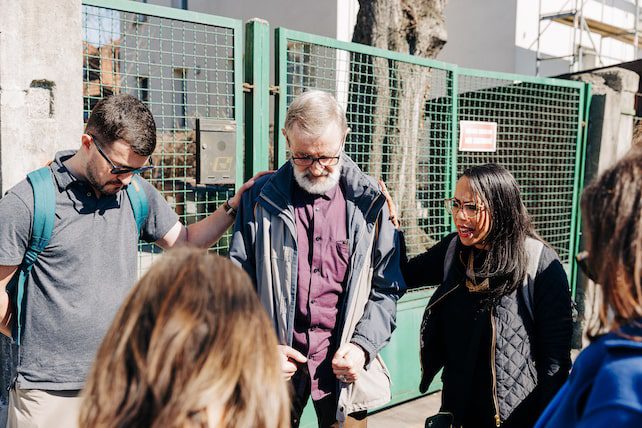 Enid Almanzar, Director of Global Access Partnerships for the American Bible Society (ABS), recently returned from Poland, where she and a team assessed the needs on the ground for more than 2 million Ukrainian refugees. Since the invasion began on Feb. 24, ABS has received daily updates from colleagues at Ukrainian Bible Society.
In an interview with ChurchLeaders, Almanzar shared how churches are ministering to Ukrainians fleeing the war in their home country and how Bible societies are meeting the "critical need" for God's Word.
RELATED: Ukrainians Seek Bibles in Wake of Russian Invasion, but Shortage Making It Difficult
Ukrainian Refugees Hungry for the Word of God
ChurchLeaders: The reports that we are seeing in the news about the plight of Ukrainian refugees are devastating. What stands out to you from your first-hand experience of what the refugees are going through?
Almanzar: What stands out to me is how many children we've seen impacted by this conflict. Since men are being required to stay behind in Ukraine to serve in the military, we're seeing that the most vulnerable populations make up the majority of the refugees crossing the border—primarily mothers with their children and the elderly.
Tragically, we found that many of these women are traveling with multiple children alone, allowing them to only carry with them the most critical resources needed for their family. Since the journey is many miles to the border, mothers often have to carry smaller children and have little energy for anything else.
Here's what we were told by a man named Matausz, who is on staff at St. Martin Lutheran Church in Krakow, Poland: "Most [Ukrainian] people walk in with one bag and two kids. . . They left behind their Bibles, telephones, shoes, even toothpaste. . . They don't have anything. They just want a place to sleep."
Children not only have to leave behind their beloved possessions and homes but also their fathers, their uncles, their older brothers, et cetera. They're fleeing amid air raid sirens and explosions to travel into countries many have never visited and where people don't speak their language. This is making a deep impact on these children, many of which already have early signs of trauma.
This is why one of the most critical resources we're looking to deploy during this time is children's Bibles—to help these children begin to process their hurt and to find strength in God and his Word. Having their very own Bible in their language also gives them something of their own again, something that reminds them of home and points them to heaven.
ChurchLeaders: How have you witnessed churches ministering to Ukrainian refugees?
Almanzar: We have been deeply encouraged to see local churches respond to the needs of refugees in so many beautiful ways.
From turning their facilities into temporary boarding houses for families, to installing things like showers and laundry facilities, to opening a free photo copy center just blocks from the consulate to assist refugees with paperwork—churches are finding creative ways to serve as the hands and feet of Jesus. Beyond just providing food and shelter, many of them are looking for ways to create a loving community for the many refugees struggling during this dark time.