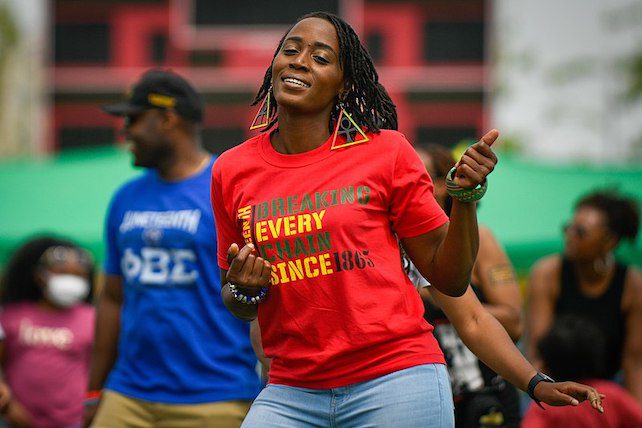 Sunday, June 19, was Juneteenth, a day commemorating the end of slavery for Black Americans. As observation of the federal holiday continues with some employees getting Monday, June 20, off, some believers and Christian leaders are reflecting on the racial work that still needs to be done. 
"#Juneteenth is a holiday celebrating Black resilience, perseverance, & liberation, but it also crystallizes the fact that this nation celebrated freedom & independence for nearly 90 years while enslaving a segment of its populace," tweeted Dominique DuBois Gilliard, an ordained minister and the Director of Racial Righteousness and Reconciliation for the Love Mercy Do Justice initiative of the Evangelical Covenant Church.
Gilliard was likely alluding to the fact that the Second Continental Congress signed the Declaration of Independence in 1776, but slavery was not officially abolished in the United States until the 13th Amendment was ratified in 1865. 
Gilliard continued his thread, "The fact that most people living in this nation only recently found out about Juneteenth highlights that since 1865 most citizens have celebrated the 4th of July without ever truly reckoning with this contradiction."
Juneteenth 2022 and the Work That Remains
Juneteenth, which is a blending of the words "June" and "nineteen" and is also known as "Emancipation Day," takes place every year on June 19. The date is a tribute to when Union Major General Gordon Granger arrived in Galveston, Texas, on June 19, 1865, and announced that all the slaves in that state were free. 
Slaves in Texas had actually been legally free for over two years without knowing it. In the middle of the Civil War (1861-1865), President Abraham Lincoln's Emancipation Proclamation went into effect on January 1, 1863, declaring freedom for slaves in 11 Confederate states. The proclamation did not free all of the slaves in the U.S. (there were about four million)—just those in Confederate states that were not under Union control. Slavery had nevertheless continued in Texas until Granger arrived. Later that year, on Dec. 6, 1865, the 13th Amendment was ratified. 
Texas first recognized Juneteenth as a state holiday in 1980, and President Biden made it a federal holiday on June 17, 2021. 
As Gilliard observed, most Americans have little familiarity with Juneteenth. That awareness might be changing, but a tweet from author, speaker and songwriter Amanda Held Opelt, shines a small spotlight on the experience of some with regard to their churches. "Curious to hear if your church acknowledged Juneteenth this morning," Opelt asked Sunday afternoon. "Anyone?"