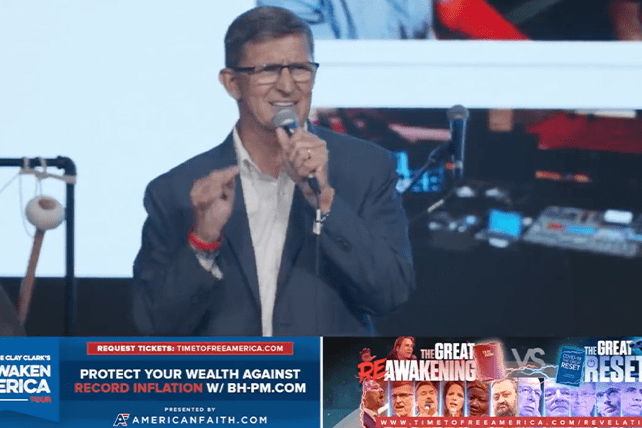 Former United States National Security Advisor Michael Flynn is again making waves with statements about his beliefs regarding faith and politics. In remarks made at a ReAwaken America Tour event, Flynn claimed that preaching the Constitution is an essential responsibility for pastors. 
The ReAwaken America Tour, which has ties to QAnon conspiracy theories and has featured speakers such as pastors Greg Locke and Artur Pawlowski, worship leader Sean Feucht, and MyPillow CEO Mike Lindell, has been selling out events at locations across the country.
Flynn, who pleaded guilty to felony perjury after lying to the FBI about his contacts with the Russian ambassador during the transition period to Donald Trump's presidency, was later pardoned by then-President Trump. Flynn has openly expressed his support for QAnon.
Following his brief tenure as National Security Advisor, Flynn has become a prolific event speaker, often appearing at far-right political events and at program's hosted by politically engaged evangelical churches. 
RELATED: Matt Hagee Issues Apology After Video Reveals He Welcomed Controversial Event
In November, Flynn was featured at a ReAwaken America event hosted by John Hagee's Cornerstone Church in San Antonio, Texas. At that event, Flynn argued that America needs "one religion." The event also featured an enthusiastic chant of "Let's go, Brandon," a popular euphemism among some conservatives for expressing displeasure with President Joe Biden. 
On Tuesday, a clip from Michael Flynn's address at a recent ReAwaken event began circulating on Twitter. 
"I always tell people," Flynn said in the clip, "a pastor or priest, they cannot stand there at the pulpit…and preach the Bible without the United States Constitution. And what they need to be doing is they need to be talking about the Constitution from the pulpit as much as the Bible."
Flynn's words received scattered cheers and applause. 
"We have to remind this country, we have to remind every single one of us, why the Constitution was written," Flynn went on to say. "What is the beauty of that document? What is the beauty of the Declaration of Independence? What is the beauty of the Bill of Rights? It all has found its foundation in the Bible."
RELATED: John MacArthur Calls Religious Freedom 'Nonsense': 'We Support the Truth'
In another clip, Flynn said, "75, 80 percent of our Constitution, our way of life in this country, is based on biblical principles. That's what pastors need to be doing. That's what a pastor does when they're leading their flock."