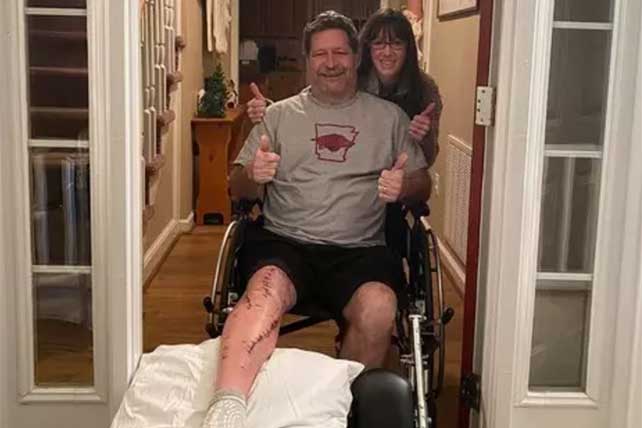 FINCASTLE, Va. (BP) – When pastor Kevin Cummings stood to preach his sermon this past Sunday (Aug. 12), it was no ordinary feat for him.
It was his first time preaching standing up since he experienced a catastrophic leg injury after being by an SUV in January.
Cummings, senior pastor at Fincastle Baptist Church in Virginia was helping his son and daughter-in-law relocate from Virginia to Little Rock, Ark. It was a Tuesday morning in early January when Cummings and his son met at the apartment complex to begin unloading belongings into the apartment they were renting.
While he was standing behind the U-Haul trailer, an SUV struck Cummings from behind, pinning him in between the back of the trailer and the vehicle. It is still unknown why the SUV driver hit him.
Cummings said he knew one or both of his legs were broken as he collapsed to the ground and began to scream in pain. Even during this traumatic moment, his instinct was to praise through the pain.
RELATED: Woman 'Intentionally' Drives Vehicle Into Michigan Church, Crashing Into Classroom, Says Sheriff
"It was the most pain I've ever felt in my life," Cummings said. "When I fell to the ground I just keep saying over and over again, 'God is good all the time, and all the time God is good.' I just keep repeating that over and over as I waited for the ambulance to come for what seemed like a long time, but was really only a few minutes. I just held onto that."
Immediately upon arriving at a local hospital, Cummings, who said he had never been in the hospital as a patient, underwent the first of what would ultimately be four surgeries on his right leg. His injuries included multiple breaks and a compound fracture.
After the surgeries, Cummings' leg now has two plates and 21 screws permanently placed. The incisions left him with 50 stitches. He described his leg immediately after the accident as looking like a jigsaw puzzle. Doctors told him the breaks he endured were the worst they could be.
All of his doctors have told him they don't understand how his injuries were not more severe. They don't understand how he did not break both legs, and only needed a few stitches in his left leg. They also don't understand how he avoided hitting his head on the pavement, how he didn't lose consciousness, or even how he survived the accident at all.
RELATED: Dayton-Area Pastor Struck and Killed by Vehicle Mourned by Community
Cummings and his wife ended up staying in Arkansas about a month due the surgeries and the immediate rehab. Through the incredibly painful experience, Cummings said he has never been more thankful for support from the family of God.