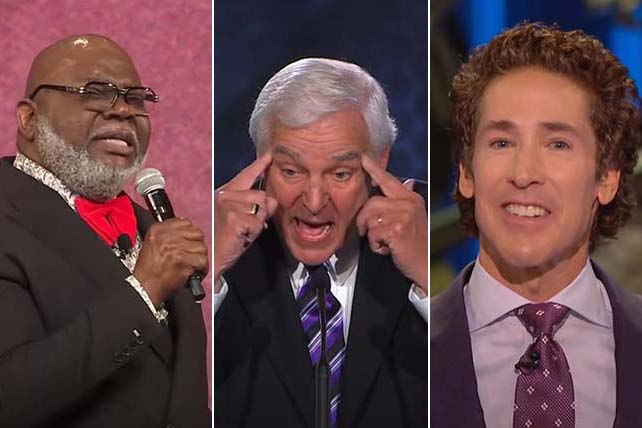 Have you ever wondered which sermons have the most views on YouTube? Well, ChurchLeaders did a query and found that, in the past year, only four names are on that list—one of which isn't even a pastor at a church.
While a woman takes the number one spot, there is one pastor who claimed seven of the top 10 positions. Every pastor on the list leads a megachurch averaging between 10,000 and 45,000 weekly attenders.
All but one of the pastors on the list have, at one point or another, been accused of being prosperity gospel preachers.
The Ten Most Viewed Sermons on YouTube in the Last Year
1. Author, speaker, and evangelist Priscilla Shirer's sermon titled "You're Right Where You Need to Be," which was given at Joel Osteen's Lakewood Church, has been viewed over 5,063,920 times on YouTube. Shirer, who is the daughter of Oak Cliff Bible Fellowship Church senior pastor Tony Evans, encourages others to "trust that God has you where you're meant to be today, and will lead you to where you're meant to be tomorrow."
2. T.D. Jakes, bishop of The Potter's House in Dallas, Texas, currently has 3,894,157 views on his sermon titled "Delayed Gratification." In the sermon, Jakes defined delayed gratification as being "when you acknowledge the value in something and act patiently to receive it. You must wait in the Spirit, work in the flesh, and watch how God will elevate you higher than you ever thought possible. The cost to get it includes submission, strategy, surrender, and suffering."
RELATED: Carey Nieuwhof: 7 Reasons Your Sermons Are Boring
"Your better isn't far off, but what price are you willing to pay to get there," Jakes asked. Jakes originally delivered the sermon on September 20, 2020, and used scripture taken from Luke 22.
3. Bishop Jakes' sermon "Timing Is Everything" ranked next with over 2,771,940 views. The bishop spoke from Mark 13:24-30, encouraging people to "hold on a little while longer—you're coming into your harvest season, and you have to believe timing is everything!"
4. "When God Is Up to Something" has more than 2,299,500 views and was also delivered by Bishop Jakes. The sermon was given in March and is about Genesis 26.
"In times of famine, distress, heartache, and pain, we often ask, 'Where is God,'" Jakes said. "God is still working and still moving in a way that transcends generations, for His plan must come to fruition. When God moves, we ought to move as well, because God has a place that's perfect for us to receive His provision. It may be dead, but God's so good that He will provide for you even in the midst of it. Get ready, because God is about to prosper you in a way you never saw coming!"
RELATED: Greg Locke Removes Church's Tax Exempt Status; Calls Steven Furtick, Kenneth Copeland, T.D. Jakes, Perry Stone False Prophets
5. Dr. David Jeremiah's "The Decision That Can Save Your Life" comes in fifth with 2,256,898 views. Jeremiah's message came from Romans 12:1, and he discussed the most important decision one can make in their lifetime.