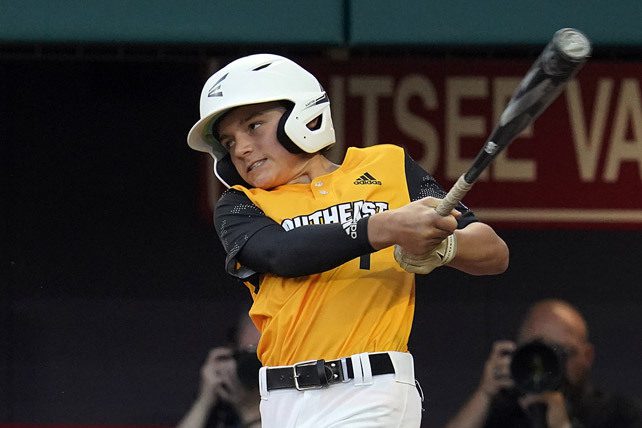 Josiah Porter, who is 12 years old and legally blind in his right eye, hit a grand slam Thursday and helped bring his team to victory during a crucial game in the Little League World Series. Following the grand slam, Josiah's father, Brandon, told ESPN that it is not possible to talk about his son's achievements without talking about Josiah's faith in Jesus.
"God had a big thing to do with all of this, keeping our focus on Jesus walking on the water, like Peter walking on the water in the Bible, and being positive," said Brandon Porter, a former pastor. "That's been something for Josiah that's just so critical to his story." 
Josiah Porter grand slams gets the people going 💥 #LLWS pic.twitter.com/bZcNcaAbse

— Little League (@LittleLeague) August 26, 2022
Little League World Series and Josiah Porter's Faith
In June 2017, when Josiah Porter was just shy of his seventh birthday, he suffered a devastating injury in his right eye. He was following his father across the street past a work truck when Josiah walked into the corner of the truck's tool shelf, which cut into his right eye. 
"I will never forget the screams," Brandon told the Kingsport Times News. "He was bleeding out of his eye. I got ice on him and put him in the truck. I drove fast. Too fast. He was holding his eye and crying. It was one of the worst days of my life."
The doctor told Brandon not to expect that Josiah would ever be able to see again. "I can't tell you how devastating a blow that was," said Brandon. "Josiah was very active and talented beyond his peers. Your mind starts jumping to the worst-case scenario, like never getting to play sports. But God had different plans."
Josiah had to stop being active for six months and endured five surgeries in order to prevent his retina from detaching. He also has to periodically get his cornea scraped in order to prevent calcium buildup. But he is now able to see some light through his injured eye. He got back to playing sports and is now doing better at baseball than many people who have sight in both of their eyes.
The night of Thursday, Aug. 25, Josiah's Southeast team from Nolensville, Tennessee, faced off against the Southwest team from Pearland, Texas, in a pivotal game of the Little League World Series. If Josiah's team had lost, they would have been out of the series. But in the bottom of the first inning with two outs, Josiah Porter hit a grand slam, giving his team the lead at 4-1. The Southeast team would go on to win the game at 7-1. 
In the interview with ESPN following Josiah's grand slam, Brandon recounted how his son had injured his eye and said, "We're a family of faith…We can't talk about this story without talking about [Josiah's] faith. Josiah stayed positive. Instead of focusing on the storm, the bad things, what he can't do, he focuses on what he can do."