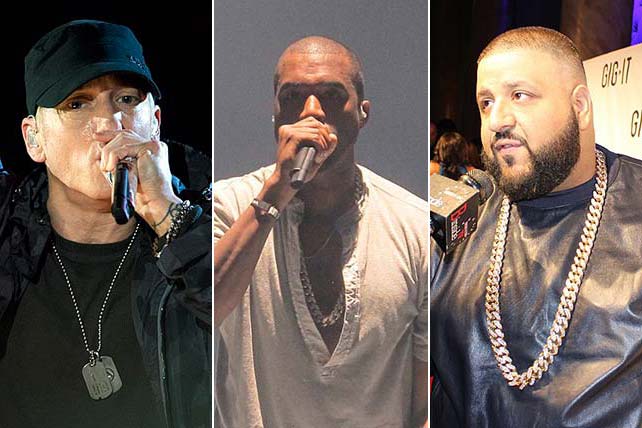 On Friday (August 26), Khaled Mohammed, who goes by the stage name DJ Khaled, released his thirteenth studio album, titled "God Did." The album featured a remix of Kanye West's "Use This Gospel" with a verse performed by Marshall Bruce Mathers III, better known as Eminem.
The track is one of four of DJ Khaled's 18 songs that doesn't carry the explicit warning tag—an extremely rare feat for any song featuring the multi-platinum Eminem.
The version of "Use This Gospel" featuring Eminem was first teased back in the fall of 2021 after a short sound bite of Eminem surfaced. West's original version of the song was released on his Dove Award nominated "Jesus Is King" album.
DJ Khaled thanked West and Eminem along with acclaimed hip hop producer Dr. Dre on Twitter on Friday, saying, "@drdre @kanyewest @eminem this GIFT is UNBELIEVABLE!! THANK YOU!! Thank you for letting me put this on my album to bless the world with! @drdre you're my idol! @kanyewest you're my BROTHER! @eminem this is a dream come true."
RELATED: Jesus Is King Review: Inspiration From Scripture Shines
In the chorus of the song, West sings, "Use this gospel for protection. It's a hard road to Heaven. We call on Your blessings. In the Father, we put our faith. King of the Kingdom, our demons are tremblin'. Holy angels defendin'. In the Father, we put our faith."
Eminem, whose song "My Name Is" made him a household name around the world, is known for his crafty lyrics that paint graphic images in listeners' minds, many of which are violent, vulgar, and abusive.
So when a rapper like Eminem, whose character precedes him, drops lines about Jesus and faith in a #1 album on iTunes, it gets the attention of Christians and non-Christians alike.
The opening lines of Eminem's verse sound like the beginning of a church's "Sinner's Prayer." He then talks about how he needs God's help from Satan's temptations and calls Jesus his Savior and shepherd.
RELATED: 'Ye of Little Faith?' Satanic Musician Makes Appearance at West's Sunday Service
The 49-year-old tells listeners that he is armed with Jesus, and prayer is his weapon. To those that come against Eminem, he warns them that he has a Bible at his side "like a rifle with a God-given gift."