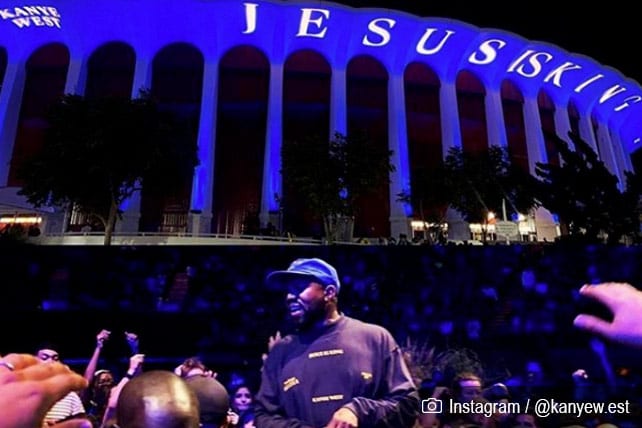 If you are reading this, then you probably have heard that we have a new brother in Christ that goes by the name Kanye West 🙌🙌. Kanye has been making news in Christian circles due to his Sunday Services popping up in unannounced locations. A large choir performs gospel music and someone (sometimes Kanye himself) preaches the gospel of our King Jesus. The Sunday Service even showed up in Dayton, Ohio to bring healing after a mass shooting happened over the summer. 
Jesus Is King Review: A Story of Redemption
Kanye had been working on a new album in 2018, set to be released in 2019, entitled Yandhi. The title was a play on words comparing himself to Mahatma Gandhi, but God had other plans. In his song Selah, he writes, "Everybody wanted Yandhi, then Jesus Christ did the laundry," explaining the work the Holy Spirit was starting within the heart of Kanye during the album's production.
In January of 2019, Kanye started a worship service that would evolve into the traveling Sunday Service. What started out as a small, invite-only, family worship service turned into something that led Kanye West to repentance and compelled him to become a follower of Jesus Christ. His pastor, Adam Tyson, said that West has known about God for a long time and that he has been running from Him. But when Tyson talked to him in June, the rapper said that God had saved him five weeks earlier. He had realized the "weight of his sin" and was convicted that he needed to make things right, so he turned to Jesus. 
Jesus Is King was released on October 25, 2019. Since then it has been accepted by both Christians and non-Christians. The album was Kanye West's ninth total and consecutive number one on the Billboard 200. All 11 songs were on the charts at once, with many of them in the top 10, and breaking records on the Christian / Gospel charts.
According to Faithwire, there was a massive spike in faith-based google searches after Jesus Is King was released, specifically "Jesus" and the phrase "What do Christians believe". Even Grammy and GMA Dove Award winner Christian worship artist Chris Tomlin covered his song "Closed On Sunday" from Jesus Is King less than a week after it was out.
Kanye Obviously Took Inspiration From Scripture
Jesus Is King has 11 songs and is only 27 minutes in length. It is a hip hop album that features his Sunday Service Gospel choir in multiple tracks starting off with "Every Hour" which vocalizes our need for God every millisecond, every second, every minute, every hour.
It is followed up by the strong 'exclamation' of "Selah", which proclaims "God is King, we the soldiers; when I get to Heaven's gates I ain't got to peak over." As well as referencing scriptures John 8:33 and John 8:36.
"Follow God" gives us a small glimpse into Kanye's personal world. The track features his father and a conversation the two had about West holding a church gathering without preaching the gospel.
"Closed On Sunday" has become every Chick-Fil-A lover's anthem. "Closed on Sunday, you're my Chick-Fil-A" is a play on words talking about remembering the sabbath day and the importance of being with family and protecting them from outside influences. "Hold the selfies, put the 'Gram away Get your family, y'all hold hands and pray" is an invitation to unplug from social media. You can also hear influences from Psalm 23, Exodus 17, Revelation 2, and 1 Kings 21:25.
"On God" is a common expression in the hip hop community meaning 'believe me'. In this song, Kanye addresses some controversies he has been involved in. He continues to walk us through his journey writing "When I thought the Book of Job was a job, the Devil had my soul, I can't lie Life gon' have some lows and some highs" alluding to when he had denounced Christ and God put him through the hardest time in his life.
"Everything We Need" was possibly a re-worked song that was originally slated to go on the unfinished project Yandhi. The song reflects on finding your true identity in God in the face of struggles and storms. "We have everything we need" is a reference to 2 Peter 1:3-4 where it says 'His divine power has granted to us all things that pertain to life and godliness…' West also references Genesis 2 and 3 with a question about Adam and Eve eating the forbidden fruit. "What if Eve made apple juice? You gon' do what Adam do? Or say, "Baby, let's put this back on the tree"…
"Water" reflects on themes of purity, and how Jesus makes us clean. "Take the chlorine out our conversation Let Your light reflect on me I promise I'm not hiding anything…Jesus, flow through us Jesus, heal the bruises Jesus, clean the music Jesus, please use us Jesus, please help Jesus, please heal Jesus, please forgive Jesus, please reveal Jesus, give us strength Jesus, make us well Jesus, help us live Jesus, give us wealth Jesus is our safe Jesus is our rock Jesus, give us grace Jesus, keep us safe." References to 1 Peter 2:21-22 and Luke 12:2-3 can be heard in the clean and pure sounds of "Water".