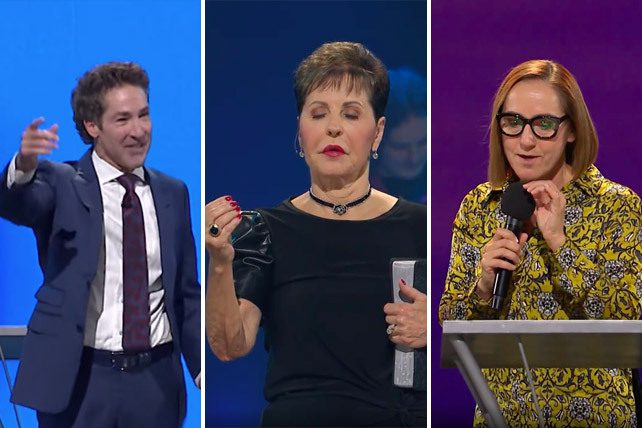 Following the recent 40th anniversary celebration of Joyce Meyer's LoveLife Women's Conference, some people are questioning why certain Christian speakers and musicians participated. Meyer, a charismatic preacher and author, previously had ties with the prosperity gospel movement and was one of several televangelists investigated by the U.S. Senate in 2007.
The lineup for the St. Louis conference, held September 22 to 24, included speakers Joel Osteen and Christine Caine, plus contemporary Christian musicians Tauren Wells and Chris Tomlin.
Joyce Meyer Is 'A Spiritual Mother,' Says Christine Caine 
Christine Caine, co-founder of the Propel Women ministry and the anti-human trafficking A21 Campaign, preached at Meyer's conference. Afterward, she shared photos on social media and described the "powerful" experience celebrating "40 years of faithfulness."
Of the 79-year-old Meyer, Caine writes: "Momma J is full of more passion and compassion than ever. I thank God for a spiritual mother and role model who inspires me to run hard after Jesus until my last breath." Caine adds, "I would not be who I am today" without Meyer.
In response, Meyer expresses her love for Caine, commenting, "I'm very thankful for our friendship." Meyer adds, "Looking forward to being with you and @shelleygiglio at the @pcc_thegrove conference coming up!" The Grove Conference had been scheduled for the following weekend at Passion City Church in Atlanta but was postponed due to Hurricane Ian.
Although comments on Caine's Instagram post were mostly supportive, that wasn't the case for worship leader Chris Tomlin.
Critics Question 'Credibility' of Chris Tomlin
Award-winning Christian musician Tomlin shared a photo of the event on Instagram, writing, "Wonderful night at the 40th anniversary of the Joyce Meyer conference…grateful to be a part of the celebration!"
In response, someone comments: "Well there goes your credibility. #heresy I guess you all stick together." Another writes: "Seriously…why bro? Joyce Meyer? False teacher, you should have not teamed up with her or any other know heretic/prosperity gospel preacher." Someone else notes: "She is a false teacher, this is a reflection on what you believe about the gospel. Very sad."
Pastor Josh Buice, whose Georgia church recently left the Southern Baptist Convention, tweeted about Tomlin's appearance. "The most prolific musician within the contemporary Christian music industry celebrated & promoted one of the most dangerous false teachers of our day," he writes.