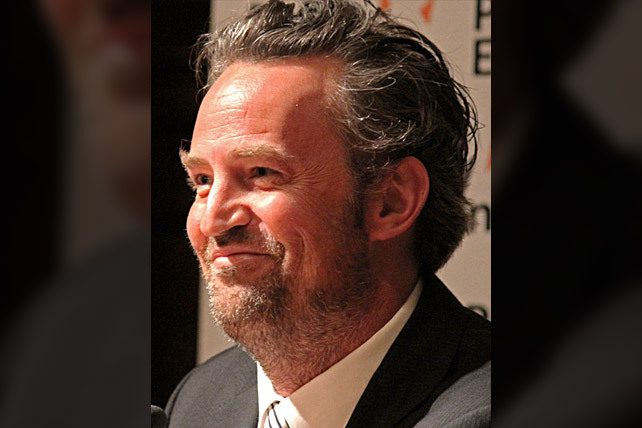 In a revealing new memoir, actor Matthew Perry admits that his first-ever prayer was a request to become a celebrity. "You can do whatever you want with me," he told God, "just please make me famous." That fame, by contributing to Perry's escalating addictions, almost cost him his life.
The actor, who played Chandler Bing for 10 seasons on the NBC sitcom "Friends," is opening up about his struggles with alcohol and prescription drugs. While promoting his book Friends, Lovers, and the Big Terrible Thing, Perry, 53, recently spoke to Diane Sawyer about his near-death experiences. They're "not fun to talk about" but might help other people, he says.
Matthew Perry: My First-Ever Prayer Was for Fame
Matthew Perry, who's from Canada, describes a childhood marked by his parents' divorce and an early exposure to alcohol. Drinking a bottle of wine at age 14 made him feel "euphoric" and "in heaven," he recalls. When he moved to Hollywood a few years later, he thought stardom might replace his daily drinking habit and "heal the hole inside" him.
Instead, the addiction struggles grew—and expanded into painkillers. At one point, Perry tells Sawyer, he was taking 55 Vicodin pills per day. Although he didn't imbibe while on set, the actor describes showing up to work "blindly hungover" and shaking. Co-star Jennifer Aniston confronted Perry about the drinking, he says, but he "wasn't in a position to stop."
Perry, who says he's now sober, went to rehab 15 times. Three years ago, he almost died as a result of drug use. His heart stopped, his colon burst, and he spent two weeks in a coma and five months in the hospital. Doctors gave him a two percent chance to live.
Perry needed a colostomy bag for a year and has had 14 stomach operations. Those scars serve as "a lot of reminders to stay sober," he says.
Matthew Perry Wants to Offer Fellow Addicts Hope
On "Friends," Perry was known for playing a sarcastic wit. Now he wants to be known as a grateful, resilient person whose struggles offer addicts hope for recovery.
The actor tells People magazine that his memoir was on hold until he was "safe" from returning to "the dark side" of addiction. "I had to wait until I was pretty safely sober…to write it all down," he says. "And the main thing was, I was pretty certain that it would help people."