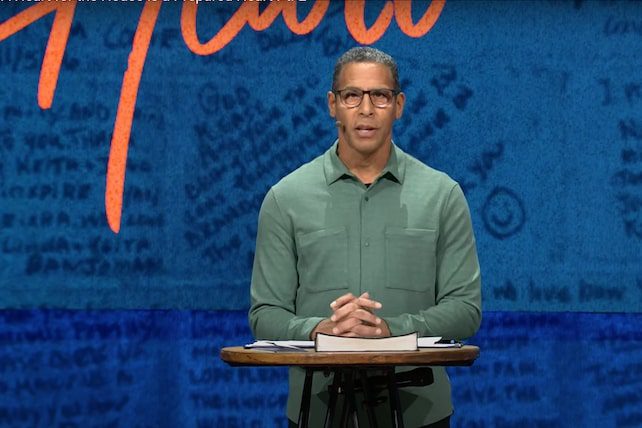 Pastor Miles McPherson of Rock Church in San Diego has shed more light on the recent arrest of one of the church's former volunteers, Leticia McCormack. McCormack was charged with the torture and murder of her 11-year-old adoptive daughter, Arabella.
"I want to address a very sad situation that was in the news this week," said Pastor Miles McPherson before he began his sermon Sunday, Nov. 13. "I know some of you know her, Leticia McCormack, and we want to pray for everybody involved, all the people who knew her…I know when things happen like this, [there are] a lot of questions about how it could happen and why it would happen, and we have the same questions. And so we got to go to the Lord for those, for comfort in that situation."
Miles McPherson: 'We Appreciate Your Prayers'
Brian and Leticia McCormack began fostering Arabella and her two sisters (ages 6 and 7) in 2017 and adopted them in 2019. On Aug. 30, sheriff's deputies responded to a 2 a.m. "call of a child in distress" at a home on Lakeview Drive in Spring Valley. Arabella McCormack, whose body showed signs of malnourishment and abuse, was rushed to the hospital, where she subsequently died. Law enforcement began an investigation, and in the course of that investigation, Brian McCormick killed himself in the presence of deputies. 
Leticia McCormack and her parents, Stanley and Adella Tom, were arrested on Nov. 7 in connection with Arabella's death. All three defendants were charged with torture and willful cruelty to a child. Leticia McCormack and Stanley Tom were also charged with murder. The defendants face life in prison if convicted on all charges. They have pled not guilty and will next appear in court on Nov. 16.
Miles McPherson is a former NFL player who founded Rock Church in 2000. According to its website, the church now has five campuses and an attendance of over 18,000. Per a statement from Rock Church sent to ChurchLeaders, Leticia McCormack began volunteering with the church in 2013. She was an ordained elder, but in this role was not "responsible for church governance and/or operations," said a church spokesperson.
McPherson told the Rock Church congregation that the news about Leticia McCormack is "bewildering because there were so many background checks done." McCormack volunteered with law enforcement, as well as being a foster mother and church volunteer. She had therefore received background checks not only from law enforcement but also from Child Protective Services and Rock Church. "Nothing revealed that anything like this would happen, could happen," said McPherson.
The pastor asked the congregation to "pray for everybody involved" and read 1 Peter 5:6, which says, "Humble yourselves, therefore, under God's mighty hand, that he may lift you up in due time."
McPherson encouraged church members that God cares for them and exhorted them to humble themselves before God, depending on him to live their lives. "God will lift you up," he said. "God's the one who's going to get us through."