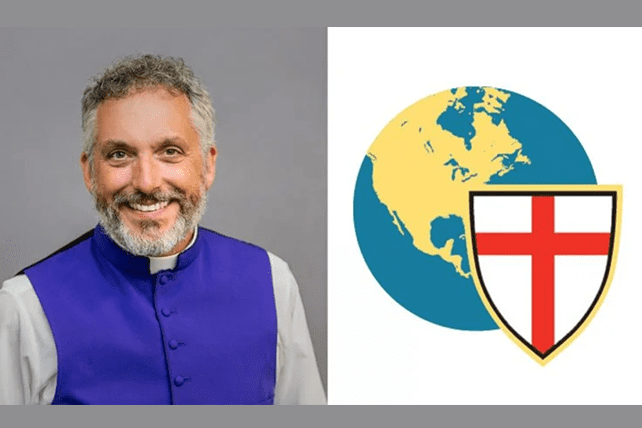 (RNS) — After 16 months of a self-imposed hiatus after admitting to mishandling sexual abuse allegations in his diocese in Wheaton, Illinois, Bishop Stewart Ruch — a charismatic, controversial figure in the Anglican Church in North America — is taking steps to revive trust in his leadership. But a meeting last week held to soothe concerns of members of Church of the Resurrection showed he has work to do to restore trust.
Some Resurrection members told Religion News Service that while the church "didn't bat a thousand" in terms of how it handled the abuse allegations, the meeting on Nov. 10 showed that church leaders "genuinely tried to do the right things" in the midst of a "very thorny situation."
But several of those who attended the meeting said they were not convinced. "He is no longer someone that I trust," one Resurrection member said after the meeting. "And as an extension of that, Rez is no longer a place that I feel comfortable attending."
Ruch initially departed in July 2021 after admitting he had made "regrettable errors" in responding to allegations of sexual abuse by Mark Rivera, a lay minister in the diocese. Rivera is facing trial on charges of felony child sexual abuse, with a verdict expected on Friday (Nov. 18).
In late September, Husch Blackwell, an investigative firm hired by the diocese, published a report that found Ruch had been slow to act. Despite that finding — and an ongoing, separate investigation into allegations of spiritual abuse by Ruch and other diocesan leaders — ACNA's Archbishop Foley Beach announced on Oct. 21 that Ruch had decided to return from his voluntary leave of absence. Beach said he would appoint a second bishop to help guide the diocese.
"In light of the Husch Blackwell Investigative Report, I have assigned Bishop Martyn Minns to serve as a supervisory Bishop while the canonical procedures continue," the letter said.
Spokespeople for the archbishop, Ruch and the Church of the Resurrection did not respond to requests for comment.
At last Thursday's meeting, Ruch and other leaders at Resurrection sat in armchairs in front of a packed church, according to church members who attended. After Ruch read several statements, he answered questions chosen from those submitted by congregants and read by church leaders. Ruch answered by reading from a script.
Attendees told RNS that Ruch apologized for "ways he did not always respond well," according to one member who was there, and listed six things he had learned, including that he should have involved a third-party investigator and a senior clergy much sooner. Ruch also reportedly acknowledged the need for better child protection and sexual abuse policies, which are expected to be revamped soon, and a church staff member spoke about the abuse and trauma trainings Resurrection leaders have attended in the last year.
"It gave me hope that the church realized that they needed to make some institutional programmatic changes or implementation and policies that would make it clear to everybody what their roles were when and if these kinds of crises hit," one Resurrection member told RNS.
But Ruch and other church leaders also appeared to want to manage the narrative about the bishop's handling of the case and his return. Attendees were asked not to record the meeting, and clergy, accompanied by two police officers, were stationed at the sanctuary entrance. Audrey Luhmann, who stopped attending Resurrection in person over her concerns about church culture and who has been an outspoken member of ACNAtoo, an anti-abuse advocacy group, was barred from entering the meeting. ACNAtoo also reported that another clergy staffer tried to compel an alleged abuse victim's mother to leave the meeting.
"When we learned that people were turned away at the door and not allowed to come in to the sanctuary, we were horrified," one member who attended the meeting said. "We don't see how this is a place that is showing God's love to the least or the lost."