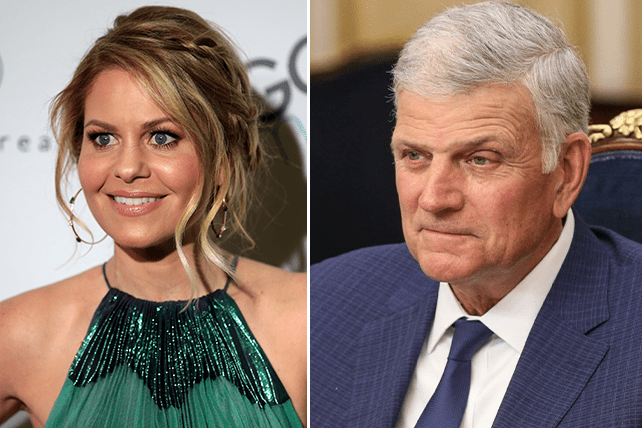 Franklin Graham, outspoken president and CEO of Samaritan's Purse, weighed in on the most recent Candace Cameron Bure controversy, which arose after Bure made comments regarding traditional marriage.
As ChurchLeaders reported earlier this week, Bure has received heated criticism from fellow celebrities for implying that the cable network Great American Family, which she joined in April, "will keep traditional marriage at the core."
Graham praised the 46-year-old "Full House" star for leaving Hallmark Channel and "standing with God's definition of marriage."
RELATED: Candace Cameron Bure Takes Heat From LGBTQ Advocates for Comments on 'Traditional Marriage'
"Good for Candace Cameron Bure! She recently left the increasingly secular Hallmark Channel for an upstart cable channel—the Great American Family—to 'tell stories that have more meaning and purpose and depth behind them,'" Graham posted on Facebook.
Graham questioned why Hollywood celebrities like JoJo Siwa, who identifies as pansexual, have a problem with Bure voicing her beliefs.
"Several of the Hollywood elite are upset with her for saying that this cable channel will 'keep traditional marriage at the core.' What's wrong with that," Graham asked. "I appreciate her boldness in standing with God's definition of marriage and supporting Judeo-Christian values. I hope tens of thousands of Christians around the country will check out this new channel—and encourage Candace in the comments below."
RELATED: Candace Cameron Bure Responds to JoJo Siwa's Accusation That She Is the 'Rudest Celebrity'
Bure addressed the criticism on Instagram, saying that although critics are attempting to assassinate her character, she still loves them.
"To the members of the media responsible for using this opportunity to fan flames of conflict and hate, I have a simple message: I love you anyway," Bure said. "To those who hate what I value and who are attacking me online: I love you. To those who have tried to assassinate my character: I love you. To everyone reading this, of any race, creed, sexuality, or political party, including those who have tried to bully me with name-calling, I love you."
Bill Abbott, former president and CEO of Crown Media (Hallmark Channel's parent company), launched Great American Family in 2021. Bure joined the network as chief creative officer.