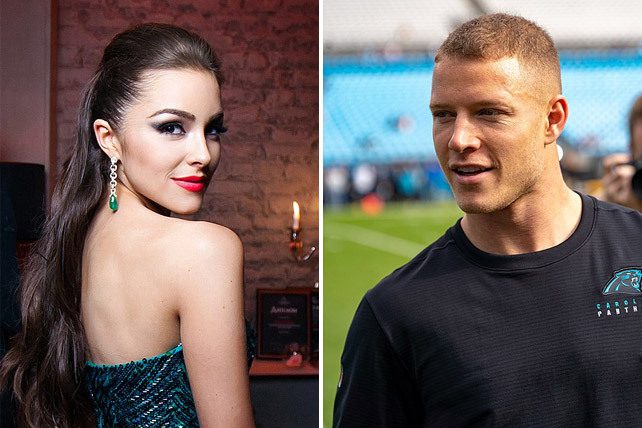 Former Miss Universe Olivia Culpo recently said that God is the foundation of her relationship with 49ers running back Christian McCaffrey. 
"I would say our relationship is definitely rooted in God, and that's really important to both of us," said Culpo in the first episode of her new reality series, "The Culpo Sisters." "And like, even if we are having hard times, one of the things that we do, we pray about it. Like, how can we be stronger in this moment?"
Olivia Culpo on Relationships
Olivia Culpo is an actress, social media influencer and model. In TLC's "The Culpo Sisters," Culpo says that although she did not grow up doing pageants, she won Miss Rhode Island when she was 19 and went on to win Miss USA and Miss Universe. 
The last achievement "changed my life overnight," said Culpo, who was overwhelmed at the time by fame and all that it brought. She moved to L.A. with Nick Jonas, whom she was dating at the time. "I had no brand, no money, and I was in love," she said. 
When Jonas broke up with her, Culpo had "no sense of identity. My whole identity was in him, which is a very common story of a young person in love." She had expected that she and Jonas would eventually get married. 
After the breakup, Culpo says she did not know how she was going to pay for rent or groceries. But she says the experience taught her "that you can't give up." She is now dating NFL player Christian McCaffrey and has been with him for three years. 
The model had sworn off dating athletes after a past boyfriend cheated on her "multiple times." However, said Culpo, "My relationship with Christian is different in so many ways." It is difficult, however, because it is a long-distance relationship. Culpo says she and McCaffrey "barely see each other," but try to make their time together count when they do. 
Olivia Culpo views her parents, married for 35 years, as an example and says that she wants to model her future marriage after theirs. "They have a love that's lasted a very long time," she said, "and I definitely want to have that some day."
Culpo, who is 29, says that she had envisioned having a husband and children by this time in her life and that not being settled with a family makes her "sad." 
"Being a mom was definitely one of my biggest goals in life," said Culpo, "so I really hope I can make that a reality sooner rather than later."