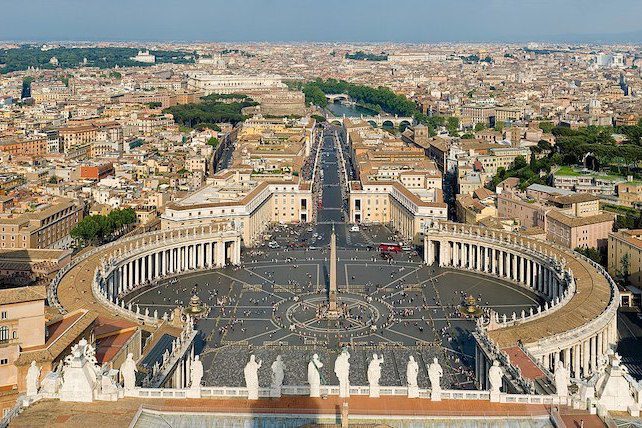 VATICAN CITY (RNS) — The Vatican's sprawling megatrial addressing alleged financial mismanagement and corruption among its top officials encountered a new hurdle Thursday (Dec. 1) as the credibility of a key prosecution witness, Monsignor Alberto Perlasca, was thrown into question by new information from an unexpected source.
On Wednesday, the Vatican's chief prosecutor, Alessandro Diddi, told the Vatican tribunal overseeing the trial that he had received information that the monsignor had been manipulated into making statements in the case.
By the time Thursday's court session began, an Italian news outlet had revealed that the information had come from Genevieve Ciferri, a friend of Perlasca's, who had written to the prosecutor over the weekend. Ciferri claimed that Francesca Immacolata Chaouqui, a former economic official at the Vatican, had prompted Perlasca in his pretrial statements to investigators.
Chaouqui is a familiar figure in Vatican legal circles: In 2017, she was sentenced to a year in prison by a Vatican court for leaking state secrets in a scandal known as "Vatileaks." (Her sentence was later suspended.)
Based on Ciferri's claim, Diddi asked the Vatican judges for time to investigate the new information and said he is considering charges of perjury against Perlasca.
Lawyers for the trial's 10 defendants, meanwhile, accused Chaouqui of "misdirection, fraud and threats" that would significantly impact their clients' cases. They insisted that the entirety of Perlasca's pretrial testimony, including parts redacted by prosecutors to protect other investigations, be released.
The judges ruled that the trial would continue, urging prosecutors to investigate Perlasca's earlier testimony over the winter holidays. They also said that Ciferri and Chaouqui will testify in court next year.
Perlasca headed the administrative office of the powerful Secretariat of State in 2018, when funds earmarked for the pope's charitable works were invested in high-end London real estate, a deal that prosecutors claim lost the church more than 20 million euros. Originally considered a target of the investigation into the purchase, he became a prosecution witness, supplying testimony particularly damning for his former superior, Cardinal Angelo Becciu.
Becciu, one of the 10 defendants now on trial, is charged with funneling Vatican funds to friends and relatives. He has strongly denied the allegations.
When Perlasca testified last week, defense lawyers highlighted what they said were inconsistencies in his story, and the monsignor often said he could not remember many of the events at the heart of the trial. At several points during the cross-examination, Vatican judge Giuseppe Pignatone warned Perlasca that he risked perjuring himself. The monsignor struggled especially to remember details regarding his written testimony to Vatican prosecutors.