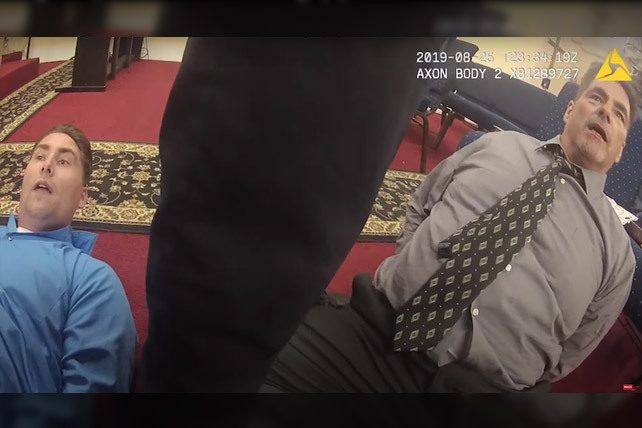 Pastor Joseph Rizzuti Jr. has shared new details with ChurchLeaders regarding what transpired on Aug. 25, 2019, when his father, Rev. Joseph Rizzuti Sr., was tased by an officer with the Worcester Police Department (WPD) in Worcester, Massachusetts. 
"I'll start by saying that I am going to tell you 'The Story,' not 'our side of the story,'" said Joseph Rizzuti Jr. in response to a request for his account of what happened during the August 2019 incident. Rizzuti Jr. and his father are pastors at Cornerstone Bible Baptist Church, now located in Auburn, Massachusetts. "You see the police's 'side of the story' was found to be untrue and unrighteous in a court of law, and thus the reason why all charges were dropped or found not guilty. Had their 'side of the story' been true, we would have been convicted of the crimes we were falsely charged with."
On Oct. 19, Rizutti Sr. was acquitted of "assault and battery with a dangerous weapon, assault and battery on a police officer, disturbing the peace, disorderly conduct and resisting arrest," and Rizutti Jr. was acquitted of resisting arrest. The Rizuttis have filed a civil suit against the Worcester Police Department, which on Nov. 15 became the subject of an investigation by the Department of Justice. A spokesperson for the Worcester Police Department declined to comment on the incident with the Rizzutis as it is not the department's policy to comment on pending litigation. 
Worcester Police Department Officers at Cornerstone 
On Aug. 25, 2019, Worcester Police Department officers responded to a custody dispute at 78 Waverly St. in Worcester, Massachusetts, where Cornerstone Bible Baptist Church was located at the time.
The dispute involved Rizzuti Sr.'s daughter, Rachael Rizzuti, who allegedly had not returned her 11-year-old daughter to the girl's father. According to the civil suit filed Aug. 23 by Rachael Rizutti, Rizutti Sr., Rizutti Jr. and Rizutti Jr.'s wife, Karissa Rizzuti, Rachael refused to give her daughter to Worcester Police Officer Diony Nunez on the grounds that he did not come with any updated court orders. 
Body camera footage from Officer Michael Cappabianca Jr. captures 15 minutes of an ensuing altercation between officers and the pastors and church members [Editor's note: This video contains language and behavior that some may find offensive and/or disturbing.]. In the footage, Rizutti Sr. repeatedly calls Cappabianca a "tyrant," after which the officer chases Rizutti Sr. into the church building and tases him, putting him in handcuffs. Rizutti Jr. and his wife, Karissa Rizzuti, are also shown handcuffed and subdued on the ground by officers. All three were arrested, but the charges against Karissa Rizutti were dropped in February. 
Worcester Police Department officers justified their actions by saying that the Rizzutis resisted arrest, while the church leaders say the officers attacked them. According to CBS News, Cappabianca's body cam footage was key to the Rizzutis being acquitted on Oct. 19. 
Regarding what took place prior to start of the body cam footage, Rizutti Jr. says:
What happened that Sunday was that an armed city police officer walked into our church and interrupted the close to our church service and asked who was in charge. At that point I went outside to speak to Officer Nunez, and he informed me he was looking for a church member who happened to be my sister [Rachael Rizutti] regarding a custodial issue. The police were attempting to take her 11-year-old daughter from her at that very moment, and she supplied him with paperwork to show she had joint custody, and she asked if the officer had any court order or paper work to show the lawful reason for what they were requesting to do in taking her child with them. They said, no, they had no paperwork, so she asked if she was being detained and was told that she was not being detained.