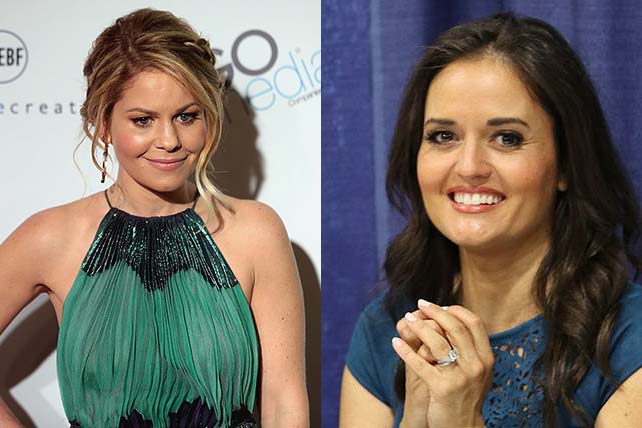 Earlier this year, "Wonder Years" star Danica McKellar gave a testimony of her newly found faith in Christ to her social media followers.
"Hey everyone! I went live today to share the journey I've recently embarked on….🙏," McKellar said in an April Instagram post. "I'm not here to preach, but I have so much love in my heart I just had to share what I'm experiencing, and to share a little why I believe it's taken me up to this point to begin this journey. ❤️"
McKellar went on to share how Candace Cameron Bure sent her a Bible and invited her to church.
"In my life, starting in childhood, I had been made aware of all the hypocrisy in the various religions of Christianity, it being used for evil, power & control throughout history, and that had definitely biased me. But that's just people, that doesn't represent God's actual love for us," McKellar recounted.
"And I can tell you I'm experiencing a relationship with God and Jesus that I've never had before, and it feels miraculous," McKellar continued. "And it all started one evening when I was struggling with the idea of forgiveness and DM'd my good friend @candacecbure about a passage from the Bible she had read on her Instastories, and then she sent me a Bible, and invited me to church…🥰 I am wishing all of you the love and freedom I feel in my heart on this journey, and a beautiful Sunday!! ❤️🙏❤️"
RELATED: 'I Feel a Lot of Joy'—Danica McKellar of 'The Wonder Years' Shares About Her New Relationship With Jesus
Bure, who recently joined Great American Family as Chief Creative Officer after spending the last 10 years at the Hallmark Channel, received criticism for her comments regarding the network's stance on depicting traditional marriages in movies and shows.
"I think that Great American Family will keep traditional marriage at the core," Bure said when asked to comment on Hallmark's LGBTQ love story, "The Holiday Sitter."
While others were quick to accuse Bure of being a "bigot" and "disgusting," McKellar, who is one of Bure's fellow actresses on the Great American Family network, expressed how she felt about the situation in a post on Instagram right before Thanksgiving.
"Wishing you all a beautiful and blessed Thanksgiving tomorrow, filled with joy and connection to those you love. 🧡💛🤎," McKellar said. "And…I'd like to set the record straight about something. I'm a new Christian, and I'm so grateful for that. 🙏 As I always have, I celebrate all forms of healthy love between adults, and I support representation."
"I was thrilled to have a role in a couple episodes of Home Economics earlier this year, and my husband and I were privileged to attend my good friend's beautiful wedding to his husband earlier this year in Mexico," McKellar continued. "At the time, we commented that it was one of the purest expressions of love we had ever seen."