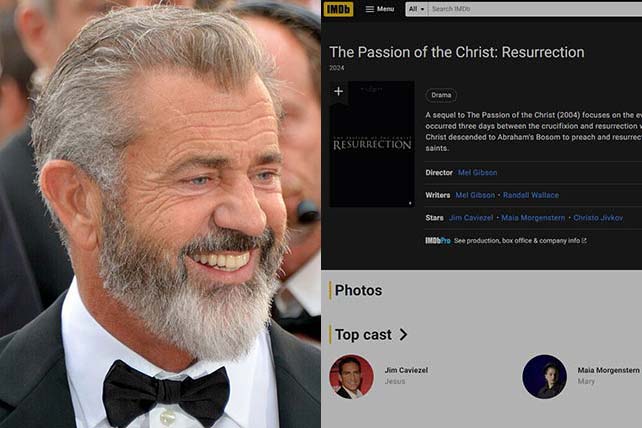 Last week (Jan. 4), "World of Reel" published an article announcing that Mel Gibson's highly anticipated sequel to the 2004 blockbuster "The Passion of the Christ," titled "The Passion of the Christ: Resurrection," would start shooting this spring.
ChurchLeaders reached out to Gibson's creative marketing and communications agency representatives, Rogers & Cowan PMK, and asked if the rumors were true.
They are not.
Rogers & Cowan PMK representatives informed ChurchLeaders that although it has been reported that the movie is currently in the works, there are no immediate plans to move forward.
"The Passion of the Christ," a film that depicts the 12 hours leading up to Jesus' death on the cross, was released on February 25, 2004. It collected over $611 million worldwide—an enormous success, especially considering it only had a budget of $30 million.
RELATED: Mel Gibson Tells Colbert 'The Passion' Sequel Could Deal With the Dark Realm of Spiritual Warfare
The sequel was first rumored to be happening in 2016 when Gibson teased it during an episode on "The Late Show with Stephen Colbert." Gibson revealed to Colbert that he was working on the sequel, adding that the account of Christ's resurrection is more than a single event.
"It's an amazing event and to underpin that with the things around it is really the story. To enlighten what that means. It's not just about the event. It's not just some kind of chronological event," Gibson said.
In 2020, actor Jim Caviezel, who was rumored to be reprising his role as Jesus of Nazareth, told Alex Marlow of Breitbart News Daily that "it's going to be the biggest film in world history."
Since the "The Passion of the Christ" was released, both Gibson and Caviezel have made various news headlines.
RELATED: 'The Passion of the Christ' Actor Jim Caviezel Speaks at QAnon Conference, Quotes Braveheart
The 67-year-old Gibson was scheduled to appear alongside Tulane University's football coach Willie Fritz as the co-Grand Marshal of the 2023 Mardi Gras parade but was recently removed after some raised concern about Gibson's past history of making antisemitic, racist, and misogynistic comments.
Caviezel (54) recently made the news after he spoke "The Patriot Voice" conference, which is known for its association with QAnon, a speech wherein he quoted lines from Gibson's Academy Award winning film "Braveheart."