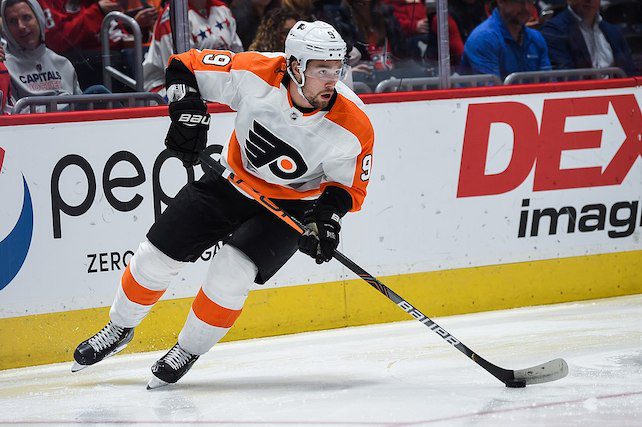 Another pro athlete has refused to participate in team-sanctioned Pride festivities. This time, it's NHL player Ivan Provorov, a defenseman for the Philadelphia Flyers. During pre-game warm-ups Tuesday night (Jan. 17), all Flyers except "Provy" took to the ice with rainbow-colored jerseys and sticks.
The defenseman did play in the game, once everyone donned regular uniforms. "I respect everybody, and I respect everybody's choices," Provorov told reporters in the locker room after his team won. "My choice is to stay true to myself and my religion." The 26-year-old athlete is Russian Orthodox, a faith that's been under fire due to its ties to Vladimir Putin.
Last summer, five baseball players with the Tampa Bay Rays refused to wear Pride logos on their uniforms, also citing faith. And seven rugby players in Australia withdrew from a match rather than wear LGBTQ inclusion jerseys.
Coach Didn't Consider Benching Ivan Provorov
Responding to post-game questions, John Tortorella, the team's first-year head coach, said he had no plans to punish Ivan Provorov. "He's being true to himself and to his religion," Tortorella told reporters. "It's one thing I respect about Provy. He's always true to himself."
The Flyers' arena was filled with Pride-themed decorations Tuesday, and the team released a statement saying it's "committed to inclusivity and is proud to support the LGBTQ+ community." Although the team didn't mention Provorov's faith or decision, it noted: "Many of our players are active in their support of local LGBTQ+ organizations, and we were proud to host our annual Pride Night again this year."
The players' pregame gear was auctioned off afterward, and only Provorov had no rainbow-colored items on the block. Proceeds were donated to diversity efforts in the sport.
In a statement, the NHL said Wednesday, "Players are free to decide which initiatives to support, and we continue to encourage their voices and perspectives on social and cultural issues."
The league has been making concerted efforts to emphasize diversity and inclusion. In November, it hosted a tournament featuring all transgender and nonbinary players. The NHL also held an employment conference to boost interest among groups who "historically have not been exposed to hockey."
Hockey Player's Decision Sparks Debate Online
Social media lit up about the defenseman's boycott. Hockey columnist Pierre LeBrun tweets: "Provorov obviously does not respect 'everyone'. If he did respect everyone, he would have taken part in warm-up and worn the Pride Night jersey. Don't hide behind religion."
Other people critical of the move note that being LGBTQ "isn't a lifestyle" or a "choice."