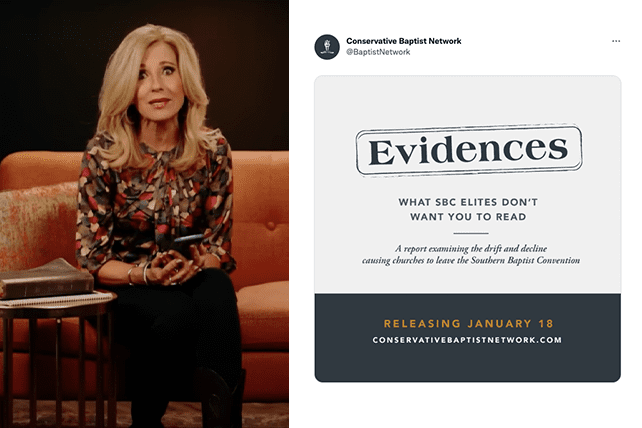 Author and Bible teacher Beth Moore has publicly responded to her inclusion in the Conservative Baptist Network's recent report on "doctrinal drift" in the SBC. While Moore was a longtime Southern Baptist and partner with Lifeway Christian Resources, she left the denomination in 2021. 
The CBN, a grassroots collection of pastors and leaders in the SBC seeking to "change the direction" of the denomination away from what they believe to be a "liberal drift," published a 49-page report titled "The Evidences of Concern Within the Southern Baptist Convention" on Wednesday (Jan. 18). 
Included in their lengthy, though "not exhaustive," list of grievances with the SBC was the fact that Moore had delivered sermons at SBC-affiliated churches in 2019 and 2021, which the CBN argues is out of alignment with the Baptist Faith and Message 2000, the unifying statement of beliefs for Southern Baptists. 
RELATED: Beth Moore Leaves the SBC, Saying 'I Can No Longer Identify With Southern Baptists'
Moore, in true Southern Baptist form, offered her response in the form of a Resolution. 
"Resolved, Beth Moore departed the SBC in large part to distance herself from hyper fundamentalists on constant witch-hunts for liberal drifters among whom they ironically name many who love Jesus, the Bible & evangelism," Moore tweeted. 
"I'm no longer your concern & have no place in your report," she added.
New Testament scholar Michael F. Bird jokingly added to Moore's response, "Resolved, Beth Moore be declared the Anglican saint of lay Bible studies, and the Conservative Baptist Network be forced to listen to an audio version of Prince Harry's 'Spare' on repeat."
It was publicly revealed in Dec. 2021 that Moore and her husband had begun attending and serving at an Anglican congregation after departing the SBC. 
Others weighed in with critical responses to the CBN's report, including North Carolina pastor Bruce Frank, who led the SBC's Sexual Abuse Task Force, which brought forth proposed reforms at the 2022 annual meeting of the Convention to address the sexual abuse crisis. Representatives voted overwhelmingly in favor of those reforms. 
RELATED: Voddie Baucham, John MacArthur Emphasize Culture's Hatred of Christians, Avoiding Compromise at Conservative Baptist Network Event
"When [Tony Evans] & [Al Mohler] are your examples of 'liberalism' you've lost all credibility," Frank tweeted.