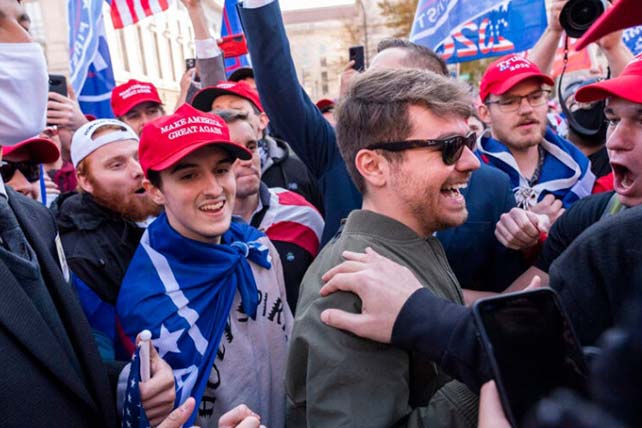 (RNS) — As midnight Eastern time approached on Tuesday (Jan. 24), far-right political operative Nick Fuentes shouted into his virtual megaphone — returned just hours earlier by Elon Musk's Twitter — "I'm back! … ready for WAR!"
Twitter first banned Fuentes, a Holocaust denier and self-described neo-Nazi, in 2021 for "repeated violations." In October 2022, Fuentes opened a new account but was quickly banned. His reinstatement Tuesday morning came amid Twitter's attempts to bring back users who had been banned before billionaire Musk's Oct. 27 takeover, in an effort to reform what the new CEO and owner has described as inconsistent policies on hate speech. By Wednesday morning, Fuentes' account was again suspended.
In his brief Twitter comeback tour, Fuentes reveled in his new freedom by spouting late-night obscenities and conspiratorial, antisemitic musings into Twitter Spaces, an audio feature of the social media platform.
"Jews run the news. … Jews run the media. Back on Twitter, let's f—ing go," Fuentes said, mocking critics, including Ben Shapiro, the Jewish founding editor of the conservative media company The Daily Wire.
For about 20 minutes, more than 3,000 listeners tuned in to the 24-year-old's rambling speech. Fuentes railed against Jews and "Israel first" policies, saying, "Israel did 9/11, and we love Hitler."
RELATED: Who Is Trump and Kanye's Dinner Companion, Nick Fuentes?
He also called for more Christians to become world leaders and said he's "ride or die" for Ye, formerly known as Kanye West, who in recent years has doubled down on branding himself as a Christian. Fuentes now consults for Ye's 2024 presidential campaign, having shifted his loyalty away from former President Donald Trump.
"I'm not just another grifter," Fuentes said, explaining that he's loved Ye since he was a kid and will not bail on him after the rapper's recent spew of antisemitic remarks, "like the other grifters" who condemned Ye. The musician's talent agency dropped him, as did Adidas, Gap, Balenciaga, JPMorgan Chase and others.
A few days into Ye's announcement that he planned to run for president, Ye and Fuentes dined with Trump at his Mar-a-Lago club. Trump claimed he knew nothing about Fuentes before meeting him and did not denounce either man's past hate speech.
In December, Fuentes sat next to Ye when Ye said he sees "good things about Hitler" on the Alex Jones show "Infowars," and "I love Jewish people, but I also love Nazis." Jones raised his eyebrows and looked at Fuentes, who showed support for Ye.
"Ye loves Hitler, and I love Hitler too!" Fuentes said during his Twitter broadcast.
Fuentes also described how, even though he had hoped for years for podcaster and YouTuber Tim Pool to invite him onto his show, when Ye walked off the show on Nov. 29, Fuentes followed. "I'm loyal to Ye," he said. "I work for him now."