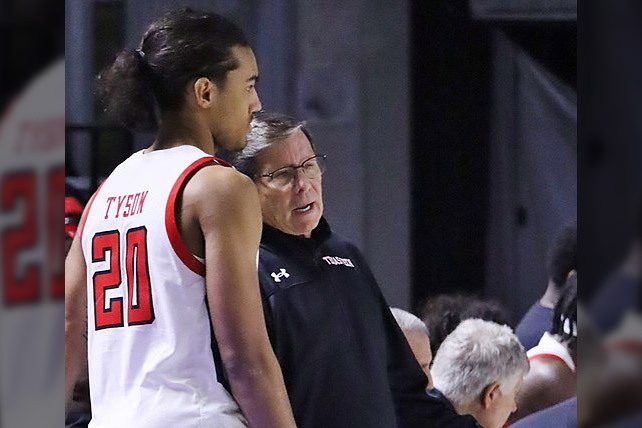 On March 5, Texas Tech announced the suspension of men's basketball head coach Mark Adams for referencing a slavery-themed Bible verse during a conversation with a player. According to the university, Adams, 66, made "an inappropriate, unacceptable, and racially insensitive comment last week" while "encouraging the student-athlete to be more receptive to coaching." While doing so, the coach "referenced Bible verses about workers, teachers, parents, and slaves serving their masters."
Initially, Adams received a written reprimand. But Kirby Hocutt, the school's athletic director, then suspended the coach to conduct a "more thorough inquiry of Adams' interactions with players and staff." An interim coach was named for this week's Big 12 tournament. According to ESPN, "Adams was already under pressure…because of Texas Tech's disappointing season."
Mark Adams: 'I Was Quoting the Scripture'
Although Texas Tech says Mark Adams "immediately addressed this with the team and apologized," the coach tells a reporter he didn't apologize but rather tried to "explain the situation." In an interview with Stadium's Jeff Goodman, Adams says, "I was quoting the Scripture. It was a private conversation about coaching and when you have a job, and being coachable."
The coach adds, "I said that in the Bible that Jesus talks about how we all have bosses, and we all are servants. I was quoting the Bible about that." Adams denies making racist comments, emphasizing there's "always a master and a servant." It's unclear which Bible passage the coach referenced.
Some Texas Tech students say they're surprised by the incident. Senior Fernanda Coello says, "I think we all see Mark Adams as the grandpa of Texas Tech, we love him" and "what was said, I just didn't expect it."
Freshman Kole Menendez says the coach probably should have used another approach. "I'm a Christian myself," he says. "I do love spreading the word of God. But I do think that [Adams] could have used a different verse or a different way to say things [because] times are different, times are sensitive."
The Bible Isn't 'An Inspirational Meme Generator'
Commentators agree that Mark Adams' word choice was unwise, at the least. "Black players comprise 12 of 13 spots on the Red Raiders' roster," writes Brian Hamilton of The Athletic. "What Adams said is repugnant enough, but what it says about what he believes only supercharges the urgency to move on" to another coach. Adams recently signed a contract extension, and Texas Tech would owe him more than $7 million if he's fired without cause.
Ryan Sanders, an ordained minister and commentary editor for the Dallas Morning News, says the incident "has all the markings of a culture war battleground." Some people will accuse the university of going woke, he writes, while others will accuse Adams of being tone-deaf.