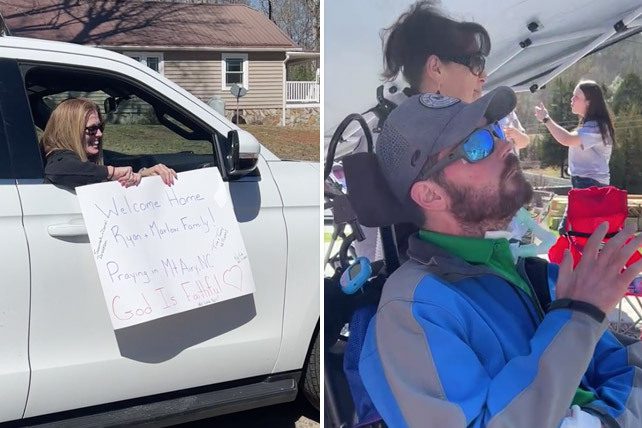 Ryan Marlow, a North Carolina pastor who was declared brain dead in August, has been on the road to recovery for the past several months and is home with his family as of Feb. 23. The pastor's wife, Megan Marlow, has been posting regular updates about her husband's health and shared that on March 4, hundreds of people welcomed him home with a drive-by parade.
"Yesterday was such a beautiful day," said Megan Marlow in a Facebook post on the page, Ryan's Recovery. "Hundreds of people came by to show love and support and we are just humbled. Many dear friends and many we had never met in person but the Lord makes us brothers and sisters in Him." 
Megan Marlow: 'Great Things He Hath Done!'
Ryan Marlow is the pastor of Grace Baptist Church in North Wilkesboro, North Carolina. On Aug. 13, he was hospitalized with concerning symptoms and began undergoing a series of tests. On Aug. 26, Megan Marlow told her Facebook followers that her husband had tested positive for listeria, an infection people typically get through food poisoning. At least part of the initial impact on the pastor was paralysis on the left side of his body and the right side of his face, as well as problems with his vocal chords and eyesight, all due to bacteria attacking his brain. 
But on Aug. 27, doctors gave Megan devastating news: her husband was brain dead. She said they told her, "He has passed away. He has suffered neurological death." Ryan was an organ donor and remained on life support while medical personnel waited for matches. 
Two days later, Megan received more shocking news from the doctor: Ryan was not technically brain dead—but still essentially was. Medical personnel planned to change the time of death to when Ryan had his organs removed. "I was very confused by this," said Megan.
The next morning, the day Ryan was set to have his organs harvested, Megan's niece said the pastor's feet had moved when she had played videos of Ryan's children for him. Megan then asked nurses to run tests on her husband once again.
"Long story short," she said, "He's not brain dead my friends." Tests found brain activity and blood flow in the area. What's more, when Megan talked to her husband and kissed his arm, his heart rate spiked. Doctors then changed their assessment to saying that Ryan was in a "deep coma."
"I need ya'll to go to church and pray," Megan Marlow told her Facebook followers. 
An update from Megan on a GoFundMe page for the couple shows that at the end of September, Ryan was transported to a long-term acute care hospital (LTACH) in Knoxville, Tennessee, where his health gradually improved. 
"God is so faithful!!!" she said. "Don't stop praying!! One.Month.Ago.Today…A doctor told me the love of my life had passed away. One month ago today my life had seemingly changed dramatically as I planned my husband's funeral and rehearsed how I was going to tell our children their daddy was now in Heaven with Jesus. But flash forward to now. A month later and he's still here!! Making small steps of progress every day!!"