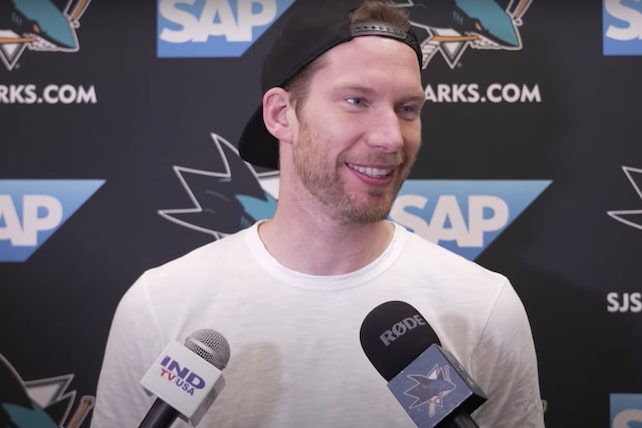 Another pro athlete has declined to don a rainbow-themed Pride Night warmup jersey. San Jose Sharks goalie James Reimer sat out the pre-game skate on March 18 rather than "endorse something that is counter my personal convictions," which he says are based on the Bible.
In a statement released before Saturday's game, Reimer indicates he's been a Christian for his entire 13-year NHL career—"not just in title, but in how I choose to live my life daily." Citing his "personal faith in Jesus Christ who…asks me to love everyone and follow him," the journeyman goalie says he has "no hate in my heart for anyone" and tries to show respect and kindness to everyone.
Reimer adds: "I strongly believe that every person has value and worth, and the LGBTQIA+ community, like all others, should be welcomed in all aspects of the game of hockey."
Christian & #SJSharks goaltender James Reimer is refusing to wear a Pride jersey tonight.

As Christians, we need to have James' back as much or more as we did when #Flyers Ivan Provorov refused to wear one, while showing Biblical love with truth to our LGBTQ neighbors. pic.twitter.com/sFM9RkT5sr

— Jon Root (@JonnyRoot_) March 18, 2023
San Jose Sharks Aim for 'Active Allyship'
Pride Night jerseys have been causing controversy throughout the sports world. A few NHL teams recently canceled plans for gay-rights jerseys, citing the safety of players from Russia, which has anti-LGBTQ laws.
A queer artist from San Jose designed the Sharks warmup jerseys, which were auctioned off for a local nonprofit that supports LGBTQ teens. For almost a year, Reimer and the Sharks had been discussing how to handle the Pride Night festivities.
In response to Reimer's boycott, the Sharks organization said individuals have the right to free expression, "including how or whether they choose to express their beliefs, regardless of the cause of topic." The team said it will continue to support inclusion and "encourage others to engage in active allyship."
During Saturday's matchup, the Sharks tweeted information about LGBTQ topics rather than game-related content. That served as a reminder that some topics are "more important than goals, highlights, and wins," according to the team. "Hockey is not for everyone until everyone is comfortable playing, working, or being a fan of this incredible game."
Reimer apparently signed a Pride-themed puck Saturday night. He also told a reporter that he is friends with Calgary Flames player Nazem Kadri, a Muslim. "And yet people would understand if I wouldn't be able to wear a Muslim jersey in warmups," said the goalie, "promoting the Muslim faith, being a Christian and a follower of Christ."
Franklin Graham Supports NHL Goalie James Reimer
On social media, many Christians applaud Reimer's courage. "I appreciate that he is not afraid to stand with his Christian convictions and won't let an agenda he doesn't agree with be forced on him," writes evangelist Franklin Graham on Facebook. "What would you do? Share an encouraging word with James Reimer…!" In that post's comments, people offer words of thanks and support for the goalie's decision.
On Twitter, many people also praise Reimer's "truthful but loving stand." Others, meanwhile, say he's not being loving and that his boycott is "completely at odds" with his statement that all people have value and worth.