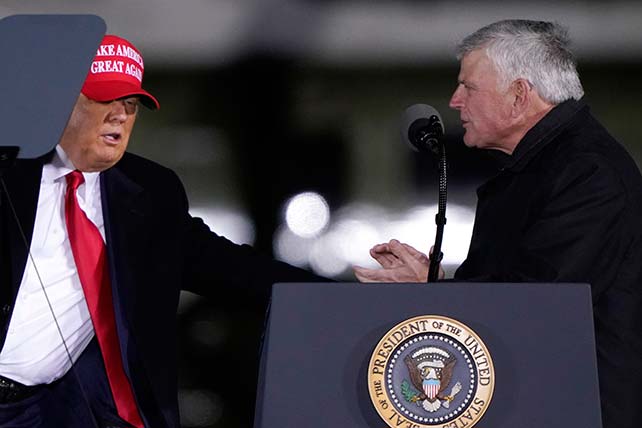 Evangelist Franklin Graham has weighed in on the criminal indictment of former president Donald Trump, echoing the common sentiment among conservatives that the charges are politically motivated.
Trump has been a controversial figure since the beginning of his political career. While he has been the subject of numerous investigations, including two impeachments, Trump has never been charged with a crime. However, on Thursday (Mar. 30), Trump was indicted by a Manhattan grand jury.
The charges against Trump remain sealed, and while it is known that the indictment has to do with his role in alleged hush money paid to former adult film start Stormy Daniels in 2016, the specific charges have not been disclosed.
The indictment is a historic moment in American politics, as Trump is the first former president to have ever been criminally indicted. While several presidents have faced impeachment, none have faced criminal charges after leaving office.
RELATED: Franklin Graham Declines To Endorse Trump, Hopes Pence's 'Role in Serving This Nation Is Not Finished'
According to reports, prosecutors are working to coordinate Trump's surrender, which some have predicted may happen on Tuesday (April 4). If convicted of a crime, it is unclear if Trump would be sentenced with any jail time.
It is also unknown whether a conviction would prevent Trump from seeking another presidential run in 2024. The 76-year-old announced his candidacy on Nov. 15, 2022 from his Mar-a-Lago resort in Palm Beach, Florida.
In a statement released on Thursday, Trump called the indictment a "witch-hunt," saying, "This is Political Persecution and Election Interference at the highest level in history. From the time I came down the golden escalator at Trump Tower, and even before I was sworn in as your President of the United States, the Radical Left Democrats—the enemy of the hard-working men and women of this Country—have been engaged in a Witch-Hunt to destroy the Make America Great Again movement."
Trump continued, "You remember it just like I do: Russia, Russia, Russia; the Mueller Hoax; Ukraine, Ukraine, Ukraine; Impeachment Hoax 1; Impeachment Hoax 2; the illegal and unconstitutional Mar-a-Lago raid; and now this. The Democrats have lied, cheated and stolen in their obsession with trying to 'Get Trump,' but now they've done the unthinkable—indicting a completely innocent person in an act of blatant Election Interference."
RELATED: 'The Onslaught Against Him Is Continual' — Franklin Graham Calls for Prayer in Light of Possible Trump Indictment
Trump accused Democratic politicians of "weaponizing our justice system to punish a political opponent, who just so happens to be a President of the United States and by far the leading Republican candidate for President," going on to call Manhattan DA Alvin Bragg "a disgrace."
"The American people realize exactly what the Radical Left Democrats are doing here. Everyone can see it," Trump said. "So our Movement, and our Party—united and strong—will first defeat Alvin Bragg, and then we will defeat Joe Biden, and we are going to throw every last one of these Crooked Democrats out of office so we can MAKE AMERICA GREAT AGAIN!"