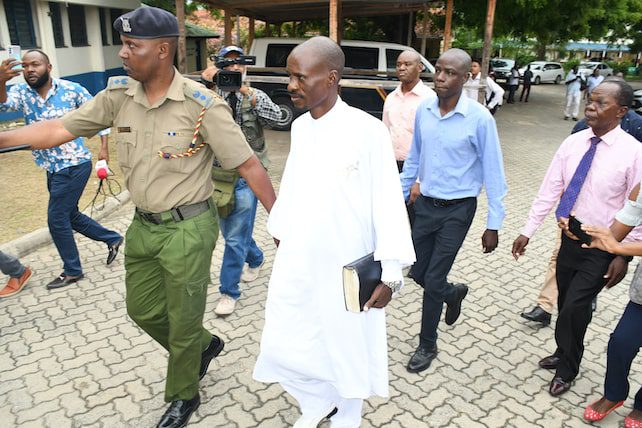 The African nation of Kenya, which is about 85% Christian, is reeling from the arrest of a second pastor who allegedly killed his church members. Authorities announced this week that they shut down New Life Prayer Centre and Church after arresting its leader, Ezekiel Ombok Odero. According to an official, the televangelist was arrested for "allegations of deaths that have been occurring at his premises and reported in various morgues or institutions."
Although authorities haven't yet made the connection, reporters are speculating that Odero's case is tied to that of Paul Makenzie Nthenge, who was arrested earlier this month. Police say Nthenge allegedly encouraged followers to starve themselves to death so they could "meet Jesus." So far, authorities have found 90 bodies on the property of Nthenge, leader of Good News International Church.
Kenyan Pastor Sold 'Holy' Cloth and Water
Odero draws large crowds at rallies, where he sells fabric scraps and water that he claims are holy and heal all diseases, including HIV. For them to work, people need "strong faith," said the pastor, who wears all white, drives a Lexus, and always carries a Bible. Odero, who didn't attend seminary, said he was "trained on the job" while working for a televangelist in Mombasa.
On his YouTube channel, which has more than 400,000 subscribers, Odero shares claims of healing. "People crowd my church because I am the chosen one," he told a reporter last year.
Police said more than 100 people on the premises of Odero's church were "evacuated and will be required to record statements." Investigators indicated that the pastor, along with Nthenge, indoctrinated people. They are looking into reports that Odero "is alleged to have ferried bodies of those who died inside his church" to Nthenge's property for burial.
Local mortuaries apparently raised concerns about the handling of human remains. Odero "would indoctrinate his followers, with sick relatives, to bring them to the church for him to perform miracles," a police report stated. "Many of the patients who were terminally ill would have been reported to have died awaiting prayers at the church; these deaths were never reported to police."
Odero has denied the allegations. His attorney called the case "a fishing expedition" and said authorities are "tainting my client's name."
Kenyan Leaders Promise To Crack Down on Religious 'Terrorism'
Heretical Christian theology and "rogue preachers" have emerged throughout Africa, according to local pastors. The Rev. Gibson Ezekiel Lesmore called the teachings "misleading" as well as "demonic." Others have labeled Nthenge's ministry a cult.
Many prominent Kenyan politicians—including Pastor Dorcas Rigathi, the deputy president's wife—have attended Odero's rallies. "You cannot condemn all Christians because of one criminal," she said. "A criminal is a criminal, alone, a terrorist is a terrorist, alone, and a murderer is a murderer. There is nothing like collective justice. We must not keep quiet as the blanket condemnation of Christians and the labeling of Christians as criminals goes on."