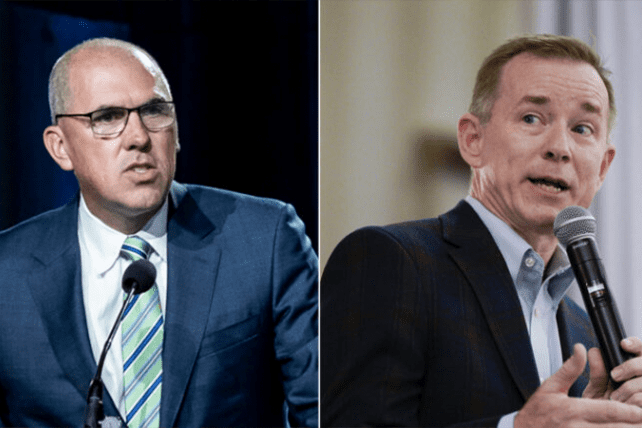 (RNS) — Two years ago, Georgia pastor Mike Stone received nearly 6,300 votes for president during the Southern Baptist Convention's annual meeting in Nashville, Tennessee — more than any candidate in a contested election in nearly two decades.
Except for one.
His opponent, Alabama pastor Ed Litton, got more than 6,800 votes, winning by a narrow margin of 4%.
The loss was difficult for Stone. Not long after the SBC's annual meeting, Litton got in hot water after critics discovered he'd used parts of another pastor's sermons without attribution, in a controversy that became known as "Sermongate." He'd later apologize and decide not to run for a second year in office. Stone also ended up suing former SBC ethicist Russell Moore, a longtime rival, for allegedly ruining his reputation and costing Stone the election. That suit was later dropped.
Next week, at the SBC's annual meeting in New Orleans, set for Tuesday and Wednesday (June 13-14), Stone will be nominated for president again. He told Religion News Service earlier this year that he'd had no intention of running again but was asked to do so by supporters, despite the precedent of current SBC presidents running unopposed for their second terms.
With his church's approval, he agreed to jump in the race.
"I did not see this coming," Stone said earlier this year.
The SBC presidential election, set for about 3 in the afternoon on Tuesday, will pit Stone against incumbent President Bart Barber, a Texas pastor known for his expertise on denominational governance and his folksy videos filmed from his cattle ranch, featuring a cow named for famed SBC missionary Lottie Moon.
At first glance, little separates the two candidates. Barber, pastor of First Baptist Church in Farmersville, Texas, believes the Bible is inerrant, champions the SBC's missionaries and defends the long-held Baptist beliefs that homosexuality is a sin, abortion is evil and only men should be pastor. He prefers to dress in a suit while preaching.
Stone, pastor of Emmanuel Baptist Church in Blackshear, Georgia, has the same view on the Bible and theological issues as Barber, also supports missions — his daughter is overseas on a short-term mission to Madrid — and, like Barber, prefers a formal look when preaching.
Despite their similarities in doctrine and practice, the two pastors represent an ongoing dispute over the SBC's current direction and future. That dispute has been fueled by the rise of the Conservative Baptist Network — a group with close ties to disgraced former SBC leader Paige Patterson — along with allies such as Florida-based Founders Ministries. This faction, which helped ignite the national debate over critical race theory, argues the SBC has become too liberal, in particular on issues of race and sexuality — and for a while, had referred to itself as a group of pirates striving to take control of the denomination. Leaders allied with the CBN have also resisted sexual abuse reforms.