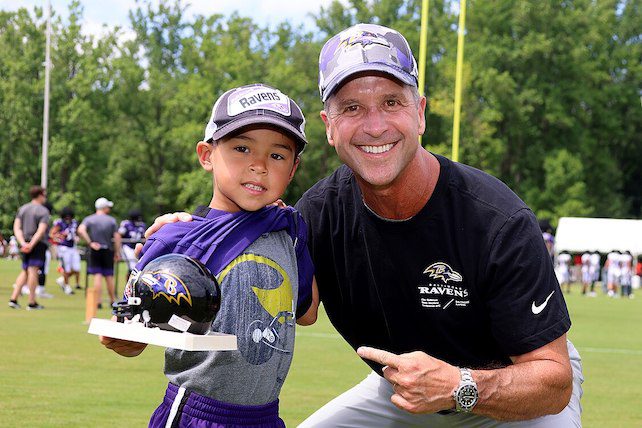 Longtime NFL head coach John Harbaugh is an outspoken Christian, as well as a history buff. On a recent episode of the "Sports Spectrum" podcast, the Baltimore Ravens coach said he's intrigued by historical proof of Jesus' resurrection from the dead.
Harbaugh told Jason Romano he's been listening to an Alistair Begg sermon about the topic, which he finds "just fascinating." The entire basis of Christianity "basically comes down to the resurrection," said Harbaugh. "If the resurrection didn't take place, then Christianity—there's no point to it."
"I'm a firm believer based on kinda being a history buff a little bit, but also on the fact of what I read."

Today on the pod we chat with @Ravens head coach John Harbaugh and hear about his passion for history and his upcoming season. https://t.co/9v7kXzbjbR pic.twitter.com/GQvmAzwske

— Sports Spectrum (@Sports_Spectrum) July 17, 2023
Coach John Harbaugh: God Is at Work
Harbaugh pointed to apostles and martyrs in the early Christian church who were eyewitnesses to the resurrection and "held firm" to their belief that Jesus was crucified and then rose again. "Nobody at any point in time recanted," he added, even when they faced "being executed in the most gruesome ways." To Harbaugh, the "strong evidence" and "consistency of the accounts" are factors that "I don't think you can ignore."
Harbaugh, who said he spends about 30 minutes daily on Scripture reading, devotions, and prayer, urged Christians to study Scripture as well as history. The coach said he has read through the entire Bible "numerous times," which has helped build his trust in God and in God's will.
At age 60, Harbaugh said it's easier now to look back and "see where [God] has brought you." Looking ahead can be tricky, but "when you look back, there's a certainty in the road that you've traveled," he said. "And as I get older now, I can really see that more clearly." The coach added that he strives to put his life into God's hand and to trust God's plan.
Ravens Coach Finds Success in Pursuing God's Purpose
As John Harbaugh prepares to enter his 16th year with the Ravens, the 2019 NFL Coach of the Year emphasized that success comes from pursuing God's purpose. The "ultimate success" comes not from winning championships and trophies, he said, but from seeking "connection with God."
God's knowledge of our true desires is "why he pursues us vigorously," Harbaugh added. "Before the beginning of time, [God] had a plan for us, and he created us in a way [that] he knows us intimately," said Harbaugh. "[God] knows what our true desires are, what our purpose is. So trying to find that purpose or connection with God and being connected and filled with the Spirit of God, the Holy Spirit—that is success. That is the ultimate success."