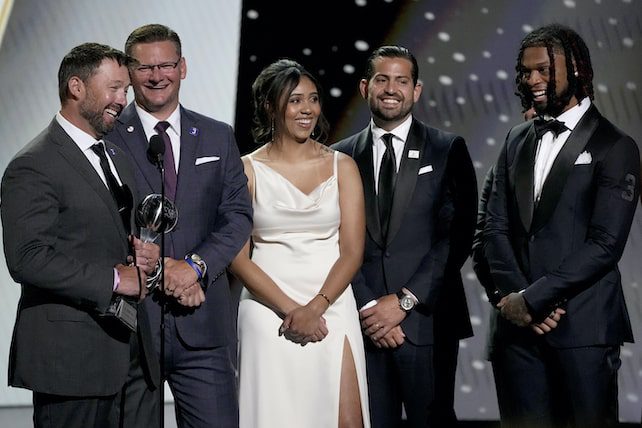 One highlight of this year's ESPYS, the sports awards show that aired on July 12, was the presentation of the Pat Tillman Award for Service. Wiping away tears, NFL safety Damar Hamlin introduced the Buffalo Bills training staff that saved his life in January.
At the Dolby Theatre in Los Angeles Wednesday evening, Hamlin and the medical personnel embraced one another on stage as the audience gave them a standing ovation. While accepting the award on behalf of the Bills training staff, head athletic trainer Nathan Breske said the Jan. 2 on-field emergency had the "best outcome we could've prayed for or imagined."
If you don't get chills watching this, you aren't a person I want to know. #DeMarHamlin #Bills 🙏🙏 pic.twitter.com/Vx2yaxyHhJ

— Runyan (@TheOnlyRunyan13) July 13, 2023
Helping Damar Hamlin—Training Staff Was 'Just Doing Our Job' 
During that Monday Night Football game in Cincinnati, Damar Hamlin went into cardiac arrest during a play in the first quarter. Responders rushed to resuscitate him on the field while fans, viewers, and even broadcasters joined in prayer. Hamlin spent time in the hospital on a ventilator, and by April he was cleared to resume football activities.
At the ESPYs, Breske said the team's medical staff isn't accustomed to the spotlight. "We were just doing our job, but the idea of service is definitely something that is ingrained in our profession and that we take great pride in." Breske called Hamlin "a strong, courageous human being" and thanked him for "staying alive."
At the end of his speech, Breske said, "The response to Damar's injury was able to bring our nation together for a moment and show the world the power of prayer. Let's remember that feeling of unity and use it to make sure we can save the next life, too."
During an interview before the show, Hamlin said presenting the award to the trainers "means everything to me" because "they're the reason I'm standing in front of you today." The 25-year-old athlete said he's "bonded together for life" with those people, and "they're like family."
After Hamlin's medical emergency, donations soared to his charity that collects toys for children. Since recovering, Hamlin has been on a mission to educate people about the importance of CPR and defibrillation equipment. About Hamlin's CPR tour, his rep said, "This is his legacy now. It helped save his life, and he wants to help save as many other lives as possible."
Pro Athletes Thank God at 2023 ESPY Awards
Also at Wednesday's 31st annual ESPY Awards, several pro athletes thanked God while accepting their awards. Kansas City Chiefs quarterback Patrick Mahomes, who was named Best Male Athlete of the year, said the award was a "tremendous honor." He added, "But it all wouldn't be possible without God, so I want to thank him first. I truly believe that."
For winning Super Bowl 57 in February, the Chiefs also won Team of the Year honors.