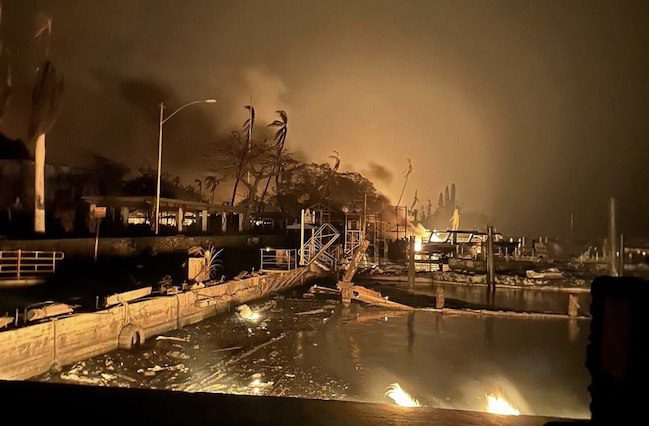 Quick-moving wildfires sparked by hurricane-force winds left portions of the Hawaiian island of Maui in ruins this week. Flames that began spreading on Aug. 8 destroyed at least 1,700 structures and caused what's being described as cataclysmic" and "soul-crushing" damage. As of Aug. 11, the Maui fire is about 80% contained.
The death toll stands at 55, but officials say that doesn't yet include anyone trapped inside burned-down buildings.
Among the losses in Maui are churches, including the historic 200-year-old Waiola Church in Lahaina, Hawaii's former capital. Local and visiting pastors are assisting with relief efforts and encouraging Americans to pray and donate as they can.
Faith-Based Relief Efforts for Maui Fire Underway
John Endriss, an interim leader for the Hawaii Pacific Baptist Convention, told Baptist Press it's been "heavy to hear of our pastors in those areas that have lost churches and houses." After needs are assessed, Send Relief will coordinate Baptist-based relief efforts in the area. "Pray for our disaster relief efforts when they are called upon," said Endriss.
Harvest at Kumulani Chapel, part of Pastor Greg Laurie's California-based Harvest Christian Fellowship, shared a Facebook Live video on Aug. 10. Laurie and his son, Pastor Jonathan Laurie, described the destruction and loss that are affecting many families within that congregation. To help, they've established a Harvest Maui Relief Fund to "bring hope and the gospel to the hurting people of the island of Maui at this critical time."
Pastor Matt Brunk, a missionary who moved from Maine to Maui several years ago, shared that he's been "communicating with people, gathering helpful information to share, visiting shelters, providing donations to those shelters, and volunteering time at one shelter. Others in our church worked separately to supply meals and donate supplies."
In an interview with Maine news station WMTW, Brunk said, "We're just doing all we can to just show that support and just be boots on the ground, where we can, have meaningful conversation, give a listening ear and share hope as we have opportunity." That's part of the state's "Ahola spirit," added the pastor, whose church is raising money for relief efforts.
Pastor Visiting Maui: 'Crisis Creates Opportunity for the Gospel'
On Aug. 11, Missouri Pastor Phil Hopper appeared on Fox News to share his experience while vacationing in Maui. His family had been snorkeling Tuesday when they were forced to join "thousands of others" trying to escape the Maui fire. Hopper and his wife were separated from their adult children overnight, with no cell phone service, but everyone eventually reunited safely.